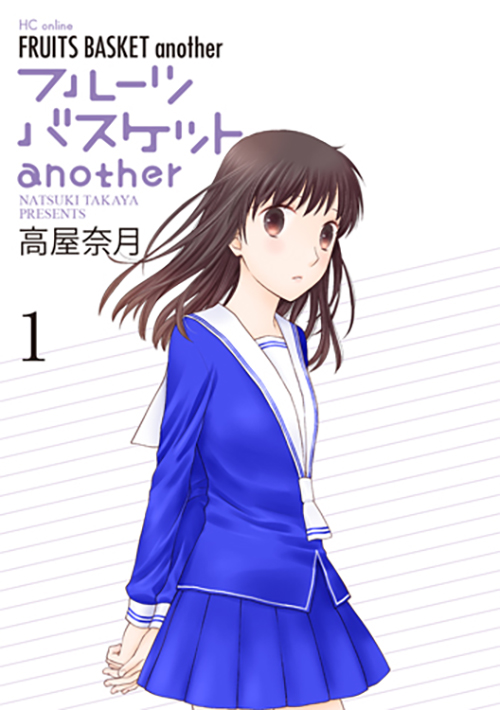 If you were a manga reader around the time the world moved into the current millenium, you probably remember the birth of an unforgettable shōjo manga mega hit series featuring a lonely girl meeting a mysterious clan of people cursed to turn into animals under various circumstances. While Takaya Natsuki's manga Fruits Basket, published in Hakusensha's bimonthly magazine Hana to Yume, had already started its run in 1998, it was in 2001, with the winning of the Kodansha Manga Award in the shōjo manga category and – most importantly – the airing of its TV anime adaptation, that Fruits Basket crossed age and gender barriers and captured the hearts of so many people, girls and women, boys and men alike. And it turned the series not just into a stellar success story in Japan but internationally as well where it also gained a huge fan following. The manga series itself ran until 2006, its 23 tankōbon volumes selling millions of copies in its home country and, as translated versions, abroad.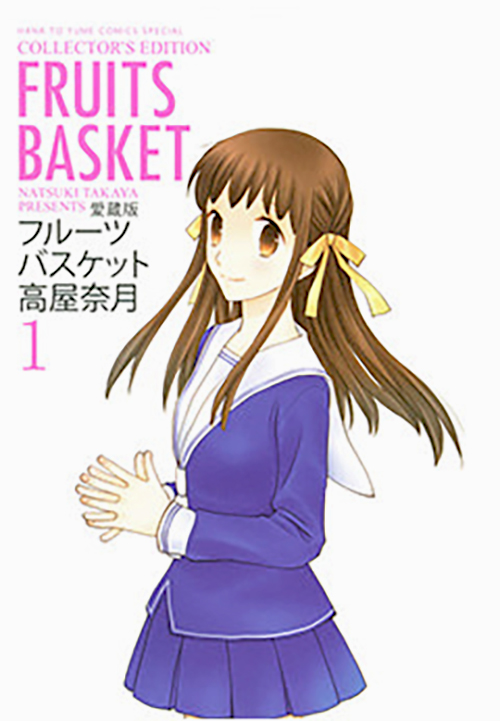 In 2015 the publication of a 12-volume Fruits Basket Collector's Edition (aizōban), designed in a slightly larger format than the original tankōbon version and with additional color illustrations and features like interviews and character profiles, was announced. To create some buzz and promote the sale of this edition (released monthly until August 2016), Takaya Natsuki returned to the world of Fruits Basket and began to publish chapters of a new Fruits Basket series via Hakusensha's digital platform Hana Lala online. A year later, these chapters saw a serialization in paper form in the monthly magazine Bessatsu Hana to Yume before the first volume was finally published in tankōbon format in August 2016. This new series is titled Fruits Basket another (or Furubana, similar to the abbreviated Furuba of its predecessor), which hints at an alternative universe kind of relationship with the original series about the the girl Honda Tōru and the members of the Sōma (Sohma) clan who are cursed to transform into one animal of the Chinese zodiac plus a cat respectively when they're either in bad physical or mental states or touched by members of the opposite sex. However, the events in Furubana take place in the very same Sōma clan universe as Furuba!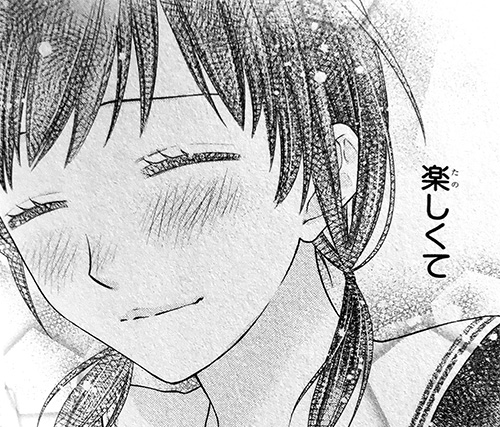 Chronologically, Fruits Basket another is set several years after the original series. A girl called Mitoma Sawa is supposed to start her first day at Kaibara-kōkō, the same senior high school the main Furuba characters used to go to back in their days. Sawa is an only child living with her cold, mostly absent mother. She doesn't want to cause trouble for anybody after a bad experience in elementary school which left her alone without friends. In best shōjo manga fashion she wants to start fresh in high school. She might be on her way to a catastrophic beginning when she is late for her first day and gets scolded by a teacher but she is then saved by a good-looking boy called Sōma Mutsuki (why hello there, Furuba Yuki!). Together with another student and member of the Sōma clan, Hajime (a look-a-like of none other than Kyō, of course), Mutsuki wants Sawa to become a member of the student council and makes it publically known she was selected as a new member. Timid Sawa doesn't really have a choice anymore, accepts her new position and joins president Hajime and vice president Mutsuki.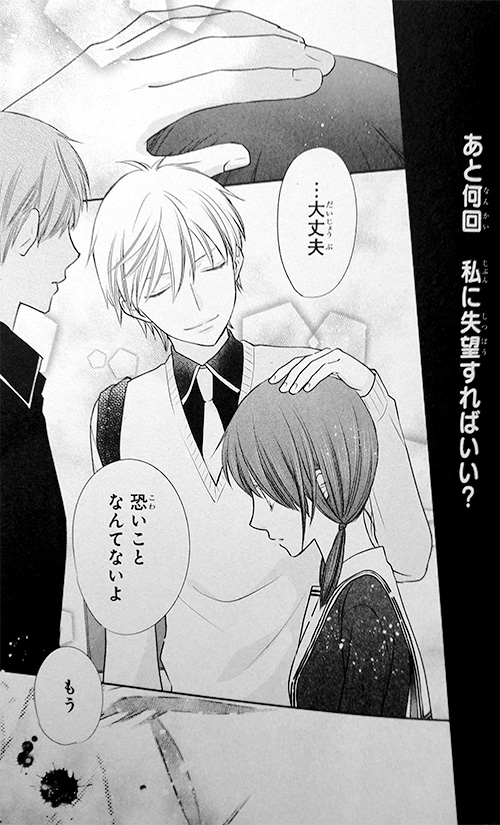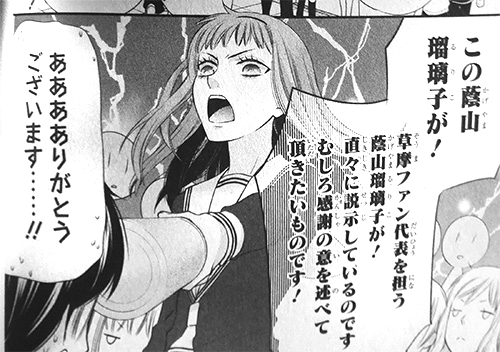 Mutsuki saves Sawa from awkward social situations more than once. He appears outwardly gentle but is a bit of a bully towards Hajime who has a very short temper. (That should ring a bell concerning the relationship of the Furuba generation protagonists, Yuki and Kyō.) The Sōma family members are hugely popular at their school and even have their own fan club led by the overzealous Kakeyama Ruriko, who hysterically guards Mutsuki's well-being and is highly suspicious of Sawa's closeness to the Sōma clan which complicates Sawa's life at school only further. By meeting more members of the Sōma clan who either also go to Kaibara-kōkō or come to visit Hajime and Mutsuki in their house, Sawa gets to know the clan members' very unique personalities. Little by little she starts to relax and make friends among the Sōmas, but will she be able to overcome her past trauma and find a place – or in this case, a family clan – she belongs to? And how will her presence in return affect the Sōma clan and their complicated relationships with each other?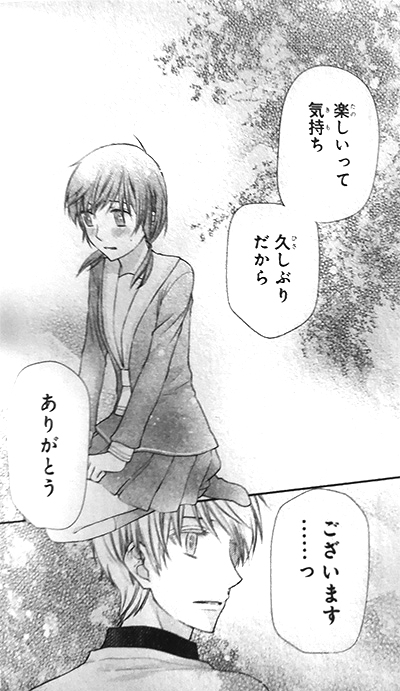 From this short summary alone it should be obvious that just like its predecessor, Fruits Basket another belongs to the healing (iyashi-kei) manga genre. The premise of the original – how is Tōru changed by the Sōma clan and how does she in return change the Sōma clan dynamics – is kept and applied to the protagonist Sawa. Unfortunately for the reader, Sawa so far seems like a rather plain and uninteresting heroine by comparison and is mainly used as a tool to build a stage for the new generation of Sōma clan members who make their appearances one by one. Furubana is planned as a 3-volume series so there clearly isn't enough space to draw out the story as elaborately as Furuba did which means some Sōma family members here disappear just as quickly as they've entered the stage. In the first volume we do get some dark foreshadowing when Mutsuki repeatedly calls a mysterious person called Shiki who avoids meeting Sawa face to face, a hint that the series might hide some darker secrets below its surface, just like the original series did.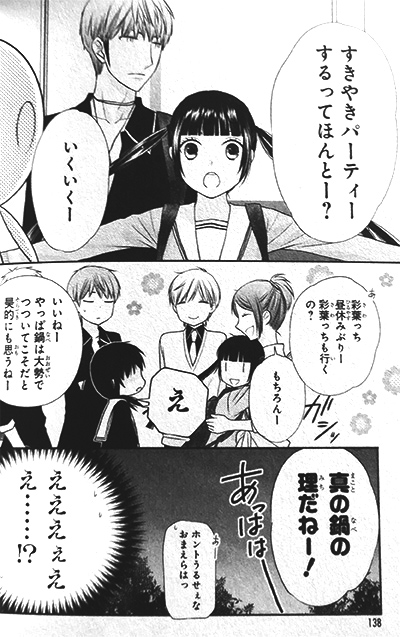 Throughout the manga long-time followers of the series will be able to play guessing games trying to match Furubana children with their supposed Furuba parents by their looks, behavior and character traits. The Furubana offspring are missing the key characteristic of the Fruits Basket generation though (as a result of the ending of the original series, which I'm not going to spoil here), which is exactly what made Fruits Basket so special, plot-wise and visually: the transformation into animals and the problems this caused. It might seem like an extremely lazy analogy but try to imagine a Sailor Moon another as a high school comedy of the children of the Sailor Senshi without their magical planet powers and transformations and ask yourself if you're enough of a die-hard fan to find entertainment in that…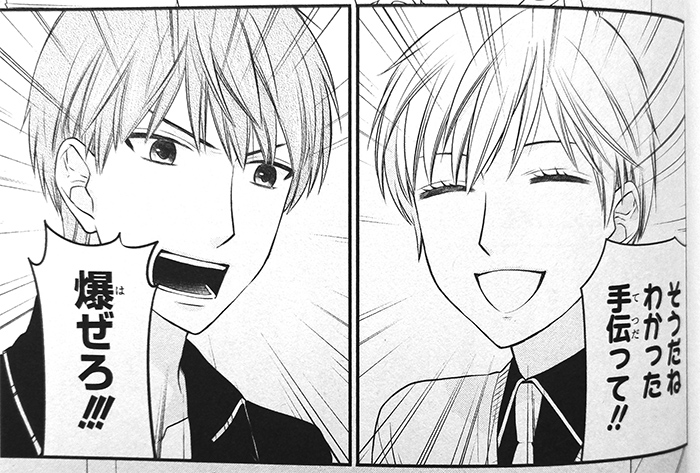 [Compare these two images: Pictured above Yuki and Kyō from Fruits Basket volume 3, published in 1999 and pictured below Hajime and Mutsuki from Fruits Basket another volume 1 published in 2016. Not that much seems to have changed between these two and the next generation. The character designs remain simple but cute, though.]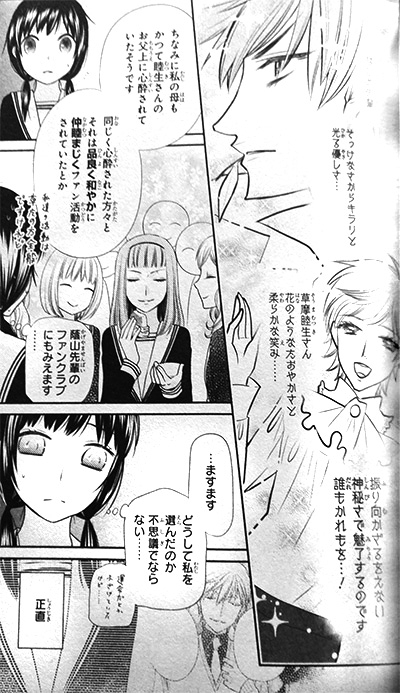 Fruits Basket was always character-driven with lots of back story and psychological development provided through the dialogue. The story here is paper-thin however, with depth and darkness as of yet only hinted at. While the character designs are solid and very similar to those of the later volumes of the original series, the main setting of the school itself makes for some boring and repetitive page layouts. So far there have been only very few scenes set outside, at the Sōma house for example. After reading the first volume one cannot shake the feeling that everything here is just a taste of past glory. Even the main character constellation – Sawa, Mutsuki, Hajime – is all too similar to the Tōru-Yuki-Kyō triangle. Owing to the planned shortness of the series, the chances of it going as dark as the original or putting its readers on an engaging emotional rollercoaster in the future are admittedly low. This is a real weakness of this sequel, as fans of the original who followed it in 'real time' back in the early 2000s are all adults now, doubtlessly possessing the mental capabilities to process a slightly more complex story.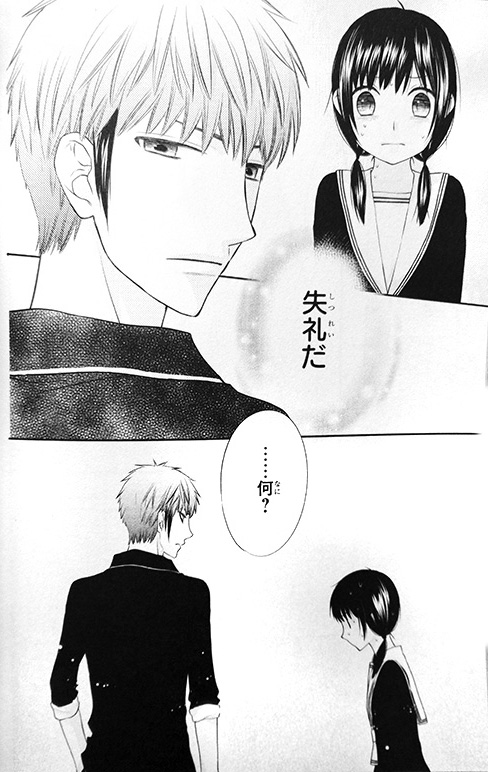 The characters, in their visual appearances and behaviors but also in their dialogues, provide recurring hints and references to the original Fruits Basket series which are only comprehensible to those who know and remember (!) the original series. In this way, Fruits Basket another can be seen as a present to long-time fans and was clearly not made to win people new to the series over. The author constantly plugs the aizōban/collector's edition that was released with the start of Furubana, encouraging people to (re)buy and (re)read the original. However, I have my doubts if people with no prior knowledge of Fruits Basket who start with Furubana find the latter fascinating enough to start the original series, especially because it lacks everything that made Fruits Basket so entertaining and fascinating.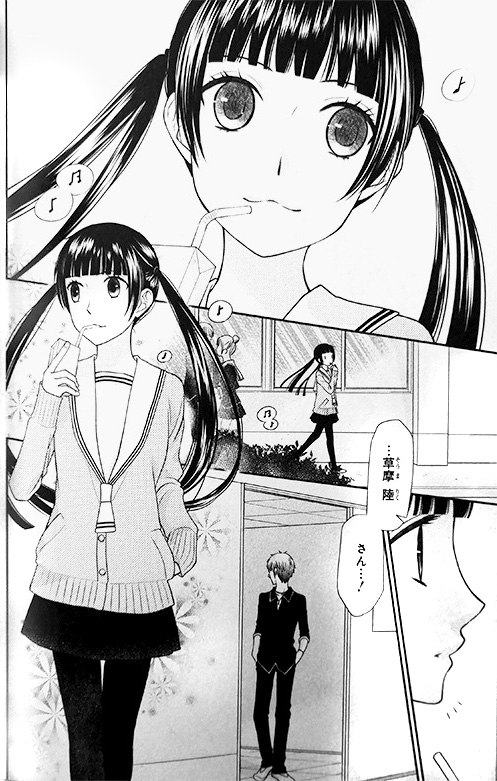 The unique characters of the second generation of the Sōma clan and their gorgeous character designs, the bickering between its two main family members (Mutsuki and Hajime here, the supposed sons of Yuki and Kyō) and the sometimes over-the-top humor here are reminders of key elements of the original. Hints at darker motives of characters are given throughout the first volume and especially at the end, providing a cliffhanger to buy the next volume which should be out by late summer/early fall 2017. In its current form, I have to admit this spin-off doesn't leave much of a lingering impression. Maybe it will be more satisfying once the series has ended and it can be enjoyed in full. It did however make me want to revisit the original which I find has aged perfectly, with its soft and kind gentleness winning over cruelty and isolation.
Title: Fruits Basket another (フルーツバスケット another)
Author: Takaya Natsuki (高屋奈月)
Volumes: 1 (on-going; 2016-)
ISBN: 9784592218517
Format: B6
Prize: 580 Yen (excluding tax)
Magazine: Hana LaLa online (digital), Bessatsu Hana to Yume (printed version)
Label: HC online
Publisher: Hakusensha
Additional information: The series originally started its run in September 2015 at Hana Lala online. Following the digital release, it is published in printed form in BetsuHana first, before about 4 chapters are collectively published in one comic tankôbon.
Chapters for volume one are offline; a preview the first chapter is located here. The chapters to be published in volume 2 have also been taken offline because the series re-started its 4-month run in the current issue of BetsuHana (number 7/2017, out since May 26th). Volume 2 is slated for a late summer/early fall publication. Chapters for future printed publication (volume 3 onwards) are still online, read them for free while you can :)
And I can't end this Fruits Basket post without the wonderfully soothing opening song of the anime series by Okazaki Ritsuko: