The ever-busy Nishi Keiko has a new series out and it's called Kisu suru machikado ~Himitsu~ (The Streetcorner Where They Kiss ~Secret~). The first chapter of it is featured in the March issue (3/2017) of Nakayoshi (Kodansha). This means Nishi-sensei's back to writing something primarily targeted at a younger audience again – just like her hit series Koi to gunkan (Love & Battleships) which also ran in Nayakoshi and managed to capture a very wide readership age-wise, both female and male.
The preview image and sample pages have a certain calm retro charm to them, with the most prominent visual feature being the exaggerated huge round eyes of the main character, a young middle-school girl called Koharu. And yes, I'm very much aware of the irony of stating the obvious for shōjo manga but – to readers familiar with Koi to gunkan and its heroine Kana, the character design is pretty similar here – the forehead and eyes of the younger characters, especially the heroine's, are pretty large even by comparison with other titles running in Nakayoshi.
The story starts with Koharu having to stay at home instead of going on vacation with her family for the spring break because she wants to take care of her sick grandmother. Koharu happens to find two old letters addressed to her grandmother which were both sent from abroad… The series promises both the usual romance (with kissing/kisusuru the serie's proclaimed theme) and dokidoki with secret adventures so chances are high this is going to be as much of an exciting rollercoaster ride as Koi to gunkan. I think the grandmother's past may play a huge part in the plot and one can already sense quite a bit of heartbreak just from the teaser pages.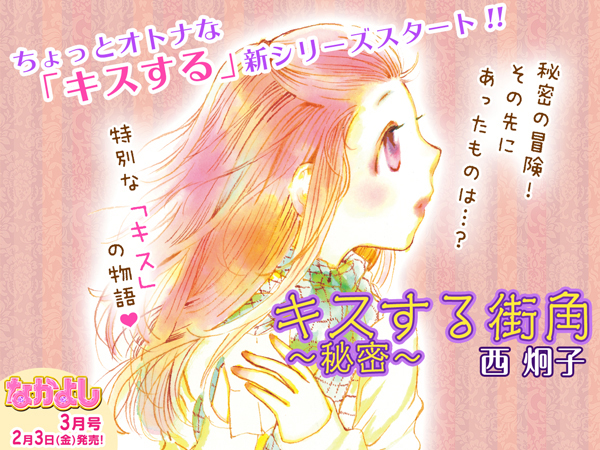 From a more formal point of view, Nakayoshi is calling this a shiriizu (シリーズ) instead of the usual rensai (連載) for longer works, so if I'm interpreting this correctly the story around Koharu might not become as epic as the 8-volume Koi to gunkan and the cast of main characters might change sooner than later. Either way, I'm not expecting the first tankōbon to be released before the end of the summer. It's going to be a long long fight with my impatience until then as I can't wait to read what adventures Nishi Keiko has prepared for her characters this time!