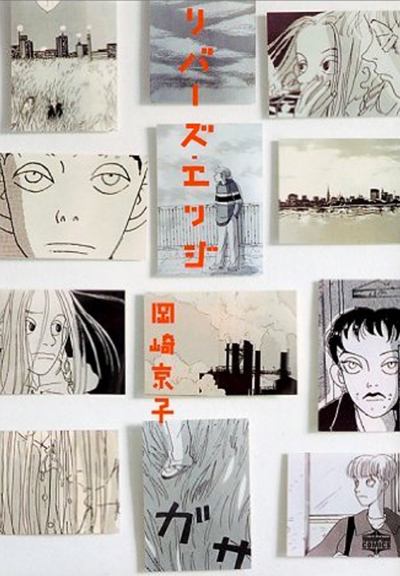 The most exciting news of the past few days to me came in the form of the announcement of a movie adaption of Okazaki Kyōko's iconic manga River's Edge. Principal photography is already being done while the movie is scheduler for a 2018 release in Japanese theaters. Okazaki started her work as a professional mangaka in the early 1980s, releasing mostly short stories and one-volume series both in manga magazine but also sub-culture and fashion magazines. Her extremely productive career – which earned her a cult following among readers and critics alike – was brought to a sudden tragic halt when she was hit by an SUV in 1996. To this day, she hasn't been physically able to publish a new manga. She is thoroughly missed by her fans and throughout the years has influenced and inspired a lot of creative and intellectual people, among them artists, musicians, film directors, as well as cultural critics and scholars.
River's Edge (published from 1993 until 1994 in the fashion magazine CUTiE and as a tankōbon in 1994 by Takarajimasha) tells the story of Haruna, a girl in senior high school who recently broke up with her bully and drugdealer boyfriend, and Yamada Ichirō, who is secretly gay and one of the victims of Haruna's ex-boyfriend's cruelties. Yamada one day tells Haruna her about his strange 'treasure' – a dead body he found by the edge of the river… River's Edge is undoubtedly among Okazaki Kyōko's most accomplished works. It is carried by Okazaki's characteristic way of portraying young people in the 1980s and, in this case, the 1990s, their boredom, loneliness and lack of direction, partly due to their parents' affluence, their fears and ambitions, their obsession with appearance – but Okazaki goes deep below the surface and finds the ugliness people try to hide and, at the same time, the very moving and fleeting beauty of what it means to be human.
The movie adaptation is currently in its filming stage, with director Yukisada Isao collaborating with Setoyama Misaki on the script. Yukisada rose to fame in 2001 with GO, a romantic zainichi action drama based on the same-titled novel written by Kaneshiro Kazuki. I'm very interested in seeing how he translates Okazaki's very distinctive visual style into moving pictures. Haruna, the heroine, will be played by Nikadō Fumi and Yamada by Yoshizawa Ryō. (Coincidently, the two have previously acted together in the 2016 movie adaptation of Hatta Ayuko's manga ÅŒkamishoujo to Kuroōji (Wolf Girl and Black Prince, serialized in Betsuma/Shueisha).) This will be the second movie adaptation of a manga by Okazaki Kyōko, following Helter Skelter for which Okazaki received the Tezuka Osamu Cultural Prize and which she worked on until the accident in 1996. The movie starring Sawajiri Erika was directed by photographer Ninagawa Mika and released in 2012.