Oh, I still like knowing what's become of the (ex-)members of the bands I followed many years ago. Yesterday when I was browsing random music information sites, I came across the news that kannivalism are going to resume their activities very very soon!
Kannivalism are the band Ryo and Kei were in before baroque, the (over)hyped visual kei/jrock indies band that went major only to disband soon after, was formed. After baroque disbanded, Ryo and Kei revived kannivalism, Yuchi of k@mikaze (another not-so-visual vkei band that put out quite good CDs which I can still listen to today without feeling ashamed of myself) and Kiri from Porori (yet another fun not-so-visual vkei band that et cetera, blah blah, I ♥ed them) joined and they could have turned into my new favourite band except I had completely grown out of that sort of music. Their releases were good but nothing too exciting so I never really followed kannivalism. I wasn't too surprised when they suspended their activities in January 2008. They were on Avex, Ryo and Kei were young and liked to have fun so I knew it wasn't meant to last.
Now last week, on August 25, the band held a press conference at the Avex headquarters in Tokyo and announced they are ready for a comeback! This is what kannivalism look like in 2009: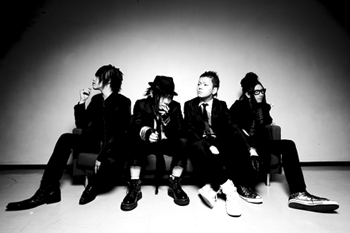 They have a new drummer, Mitsuya (far right in the picture above). Ryo who's been suffering from adjustment disorder said at the press con that he's doing fine now and wants to give his best now that they have a new member in the band. Even though Mitsuya's younger than him, Ryo thinks he's got a really strong attitude and comes across more like the singer in the band (sort of more like a band leader). Yuchi added that because of Mitsuya it really feels like a fresh start as a band and Mitsuya himself hopes the band's going to be even better than before now that he's joined them.
Kei also said at the press con that they and the record company have been thinking about changing the band's name because it doesn't exactly have the most positive meaning, obviously. He's been wanting to ditch the kanniva bit and reduce their name to "ism". The timing would be perfect now but they're not sure if they really want to pull through with the name change.
Kannivalism have a full schedule for autumn and early winter including a new single and a concert:
– From September 9 on, kannivalism's new song "life is" will be available for download as a full ringtone via mu-mo.
– On September 30, a solo mini album by Kei titled "for a fleeting moment." is supposed to come out (also via Avex).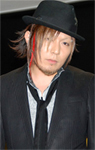 – On November 11, a diary-like book by Ryo will be published (by Random House/Kodansha – Avex often has tie-ups with Kodansha) chronicling his fight against his illness (AD). At the press conference he stated that he's very optimistic now when it comes to his illness and hopes to offer a little bit of support to those people who're suffering from a mental illness just like him. I think that's a very admirable thing to do, especially in a society who likes to remain silent about people with mental problems. It'll also offer a good explanation what he's been going through when kannivalism was inactive. But at the same time, I can't shake a certain feeling of suspicion because the book release is so conveniently placed before the band's comeback… Anyway, I really hope Ryo is strong enough to keep kannivalism alive with the other band members. The entertainment industry probably isn't the easiest surrounding to work in when it comes to stress but I wish him all the best!
– A week later on November 18 (yes, how convenient), a new single will be released.
– Shortly before the end of the year, on December 26, the band will play a comeback show at Zepp Tokyo.
– A new album, kannivalism's second, will be released in 2010.