I'm still a little bit blinded (positively!) by G-Dragon's debut performance at Inkigayo yesterday. (Oooh, the stage design ♥ And *cringe* at the tomato pants.)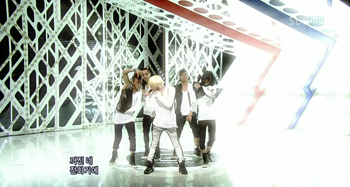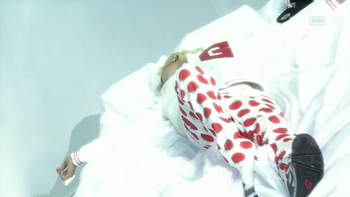 And now that Big Bang are back in Korea and busy with musicals/promoting or recording solo albums/recovering from car accidents, their summer activities in Japan are crowned with a nice new sales record for overseas artists in Japan. I guess all the hard work and slight awkwardness during Japanese TV shows paid off really quickly:
Big Bang's first Japanese major album "BIGBANG" debuted at #3 in the weekly Oricon album charts dated August 31, 2009. This makes Big Bang the first overseas artists ever to enter the Japanese Top 5 with their first three consecutive releases, i.e. their debut album, their first single ("MY HEAVEN") and their second single ("GARA GARA GO!!").
Meanwhile, their best of album "ASIA BEST 2006-2009" which was released on the same day as their first major album debuted at #20 in the weekly album charts. At the same time, it ranks 4th in the weekly overseas album charts.
Their live DVD "2009 Big Bang Live Concert 'Big Show'" is at #1 in the Oricon music DVD charts and at #5 in the rental DVD charts.
In a thank you message to the fans posted on Aug 27 at the official Japanese blog their Japanese staff described Big Bang as a band who is – just two months after their major debut – continuing to make the transition from artists representing Korea to a band representing Japan and even all of Asia. They thanked the fans for all of their support which made it possible to achieve such a great success in Japan. Together with Big Bang themselves they want to work just as hard so the band can continue to be just as successful with their future Japanese activities and releases.