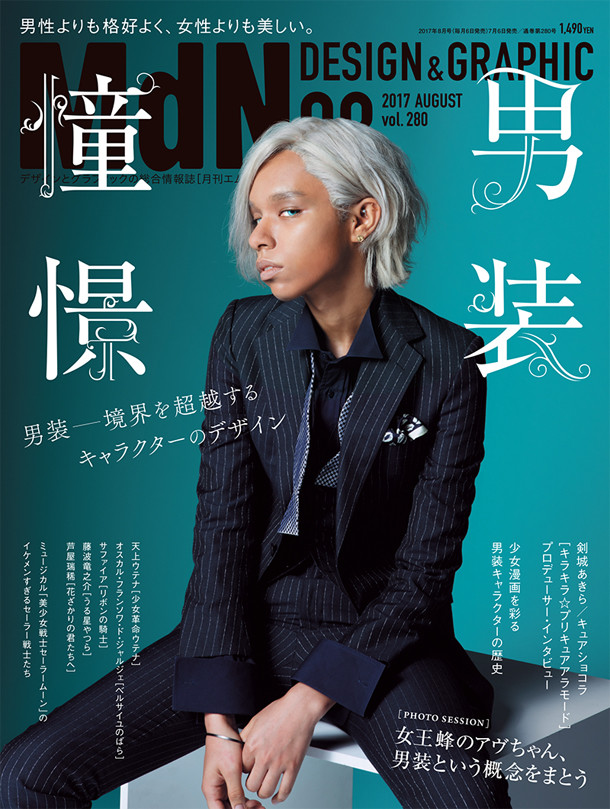 Japanese design & graphic magazine MdN is running a special feature on girls and women disguising themselves as or dressing as boys/men in their upcoming August 2017 issue out July 6th. Under the headline of "The longing for women in mens' clothes – the design of characters leaping over the boarder" they try to view the phenomenon from a variety of angles to try and answer the question why so many women feel attracted to the mysteriousness and cool outfits of cross-dressing women. The cover features Avu-chan, the singer from the Kobe-based rock band Ziyoou-vachi (Joōbachi), with an accompanying photo spread taking up the first part of the magazine.
The producer of KIRAKIRA ☆ PRECURE A LA MODE talks about creating the character Kenjō Akira (Cure Chocolat) that's closely linked to both a protective motherliness and boyishness. And a history of girls and women disguising themselves or simply dressing as boys or men spans the decades from Tezuka Osamu's Princess Knight's Princess Sapphire to Ikeda Riyoko's Lady Oscar into the new millenium and follows in the footsteps of manga scholar Oshiyama Michiko's research.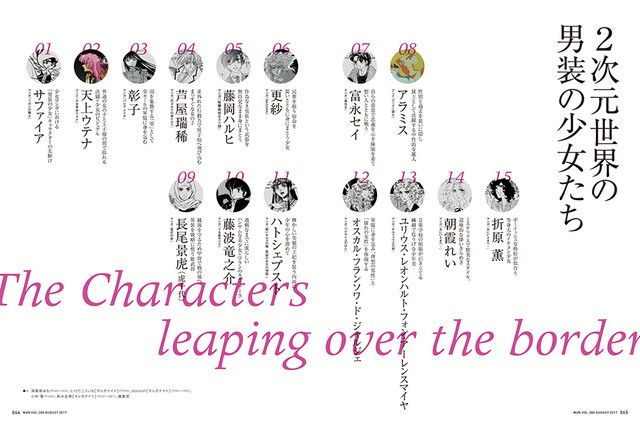 A large part of the special is dedicated to 15 important cross-dressing girls and women in manga and anime. Here's the eclectic cast the editors selected for these profiles:
1. Sapphire (Ribon no Kishi/Princess Knight, Tezuka Osamu)
2. Tenjō Utena (Shōjo Kakumei Utena/Revolutionary Girl Utena, Saitō Chiho)
3. Akiko (Palace Meiji, Kuze Banko)
4. Ashiya Mizuki (Hanazakari no Kimitachi e/Hana-Kimi, Nakajō Hisaya)
5. Fujioka Haruhi (Ōran Kōkō Hosuto-kurabu/Ouran High School Host Club, Hatori Bisco)
6. Sarasa (BASARA, Tamura Yumi)
7. Tominaga Sei (Kaze Hikaru, Watanabe Taeko)
8. Aramis (Anime Sanjūshi/The Three Musketeers Anime, Alexandre Dumas/Studio Gallop)
9. Nagao Kagetora (Yukibana no Tora, Higashimura Akiko)
10. Fujinami Ryūnosuke (Urusei Yatsura, Takahashi Rumiko)
11. Hatshepsut (Aoi Horus no Hitomi, Inudō Chie)
12. Oscar François de Jarjayes (Versailles no Bara/The Rose of Versailles, Ikeda Riyoko)
13. Julius Leonhard von Ahrensmeyer (Orpheus no Mado, Ikeda Riyoko)
14. Asaka Rei (Oniisama e…, Ikeda Riyoko)
15. Orihara Kaoru (Oniisama e…, Ikeda Riyoko)
Also included are features on cross-dressing female characters in drama, theatre and musical, both Shakespearean/Western drama, as well as a look at Japanese performing arts including Noh and the Takarazuka Revue, finishing with an interview focusing on the Sailor Moon musical "-Le Mouvement Final-" and its Sailor Guardians who are "more [attractive] than ikemen (attactive men)."
With such a comprehensive line-up this looks like another interesting issue of MdN which lately has been providing good insights into issues related to manga and anime, though often from a design perspective. (We previously talked about their issue dedicated to the design revolution in shōjo manga in our Yamakawa Aiji profile.) More information on the August issue and preview images can be accessed via the magazine's Amazon page.
For further information on the topic of cross-dressing girls in shōjo manga, I also highly recommend a look at Oshiyama Michiko's book Shōjo manga jendā hyōshō-ron: 'dansō no shōjo' no zōkei to aidentiti [On the Representation of Gender in Shōjo Manga: The Shaping and Identity of 'Cross-Dressing Girls'] which can be found on Amazon Japan among other places. Both this and the August issue of MdN are surely not to be missed for anyone interested in the gender politics of shōjo manga and closely related media!