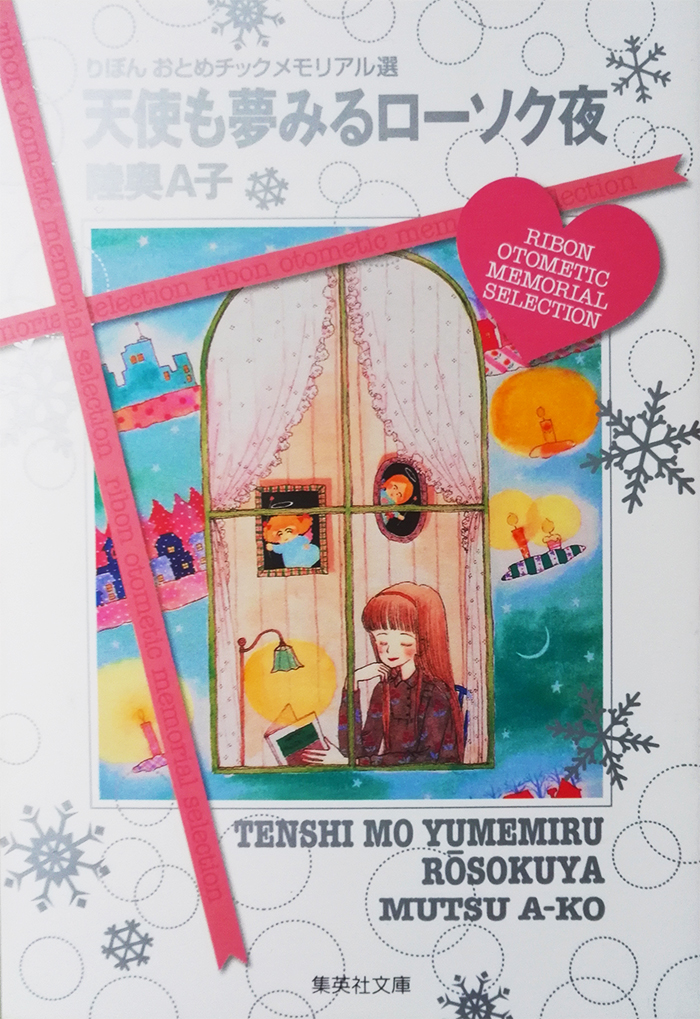 Every year, I'm getting a little giddy with anticipation as February 14th is drawing nearer. And not for the obvious reasons of impending showers of chocolate, flowers, jewellery and all that stuff Valentine's Day is supposedly made of if a whole industry dedicated to it were to be believed. No, it's close but it's not quite the reason. That feeling usually gets really strong in January, with the warm lights of Christmas long gone and the cold cruel wind blowing, as I'm making my way through snow (or even just rain). But I put that feeling of longing and excitement off, until on Valentine's Day or one day later, on February 15th, I grab a certain volume of short stories from the shelf and – indulge in warm, fuzzy shōjo manga nostalgia!
The book that I blew imaginary dust off yesterday for its big moment is called Tenshi mo yumemiru rōsokuya by Mutsu A-ko, a small bunkobon released in 2005 by Shueisha as one of three volumes in the Ribon Otometic Memorial Selection (the other two being short story collections by Tabuchi Yumiko and Tachikake Hideko, respectively). And it's the very same title story from it, which roughly translates to "The Candlelit Night When Even The Angels Dream", that is such fantastic material for annual re-readings in synchronicity with the outside world.
It's Monday, February 15th, in the quiet neighbourhood of Asahigaoka, the day after Valentine's Day. The two angels Spinet and Vivace are a little exhausted from their work the previous day but still they manage to watch over the love lives of a handful of girls and young women who are all connected to some degree on that fateful snowy night of candles lit and stories told during an electricity blackout in the small residential area.
For example, there's Sasae celebrating her 17th birthday with three of her friends on that Monday evening. She is in love with her childhood friend Shikawa-kun who told her recently he needed some time to see her as anything more than just a friend. The girls dream about their future lives, their ideal partners and marriages, when in the present, love is something bittersweet and hard to reach for most of them, even for Olive who has a boyfriend but has to keep a long-distance relationship with him because he goes to university in far away Tokyo. But there is quite a bit of hope for Sasae herself who happens to meet Shikawa-kun when the girls go out into the dark of the blackout, the hope that his feelings for her finally might have changed when he greets her with a present.
Kari, a young woman with an inferiority complex caused by her boyfriend's all too perfect ex-girlfriend, meets an alien girl named Piin while she's sitting on a park bench in the snow during the blackout. The alien seems to know Kari from the inside out and takes her on a ride in her spaceship. From this higher viewpoint, Kari sees her world in a completely new light and realizes there is no reason to worry so much about her boyfriend and his dedication and earnestness towards her.
The school girl Kimako has been secretly watching her mysterious new neighbour, a boy called Haneo who has the whole school buzzing with gossip because of his excentricities, through her window. She learns he's obsessed with extraterrestrial lifeforms and finally gets to meet Haneo in person in the snow during the blackout when he's following a spaceship with an alien and a human girl on board through the neighbourhood.
And Banana, who has taken some time off after her graduation from university because she doesn't know what to do for a living, daydreams about becoming an essayist when she suddenly gets the chance to win a trip to Paris and work as a professional travel writer through a competition in a womens' magazine. But as the deadline is drawing nearer and nearer, she's facing a massive episode of writer's block, which she'll finally (and successfully!) be able to overcome on the night of the blackout, remembering a trip to a lovely antique toy store in the north-east of Japan which brought back so many memories from her childhood.
This short voyage into Mutsu A-ko's world provides an excellent introduction to the author's early works: These bittersweet romantic comedies are decorated with cute details and settings (kawayui being the keyword here, yes, even cuter than kawaii) and follow girls in preppy clothes – most of them shy, some of them quite free-spirited – who are mainly focused on getting their crush to notice them, while the male characters range from the level-headed to the geeky.
The original tankōbon of the title story was published in 1982, the other 4 short stories also included in the bunko version date back to even earlier, so you'll get a good impression of the sense of carefreeness both of youth and adolescence portrayed in shōjo manga in general but even more specifically during the prosperous times of Japan's high-speed economic growth. The ideas some of the characters have about gender roles or romantic love might be a little dated. But in the end, what wins the reader over even today is Mutsu A-ko's idiosyncratic mixture of slightly over-the-top comedic elements and beautifully nostalgic or melancholy romantic scenes with pretty artwork that has become the very definition of what clever editors of Ribon magazine once coined otometic. No matter how old you are, if you're reading this for the first time or out of nostalgia, Mutsu A-ko manages to draw you into her very unique, charming, magical world, a universe you'll want to revisit again and again, and not just once a year ;)
More about the author, whose birthday it happens to be today (February 15th), about a recent new edition (Best Selection) of her early works published by Kawade and about the otometic 'way of life' is soon to come! But for now, if you're proficient enough in the Japanese language, buy your copy of this lovely little book!
Title: Tenshi mo yumemiru rōsokuya (天使も夢みるローソク夜)
Author: Mutsu A-ko (also: Mutsu Eiko, 陸奥A子)
ISBN: 4-08-618395-1
Publisher: Shueisha
Format: Bunko, 320 pages
Year: 2005
Additional information: Contains the 4-chapter ('omnibus') title story and four other short stories ("Kintarou-kun", "Oshaberi na hitomi", "Milky Sepia Monogatari", "Magical Mystery Instant Coffee"). Published as part of the 3-volume Ribon Otometic Memorial Selection (りぼん おとめチックメモリアル選) celebrating the 50th anniversary of Ribon. More info @ Shueisha Manga Net.