It's time for a special kind of retrospective of the year 2018. In the past 12 months, three of my favourite manga series of the past decade ended – titles that, to me, could be called instant classics. In the rush of new manga publications, it can always be a little hard to remember the good stuff that no longer have an on-going status. For this reason, I'm taking a loving look back at these three now finished yet unforgettable works of art: Kamatani Yuhki's LBGTQ coming-of-age drama Shimanami Tasogare, Andou Yuki's Machida-kun no Sekai with its one-of-a-kind protagonist, and Stand Up! by clb.org favorite Yamakawa Aiji.
Shimanami Tasogare by Kamatani Yuhki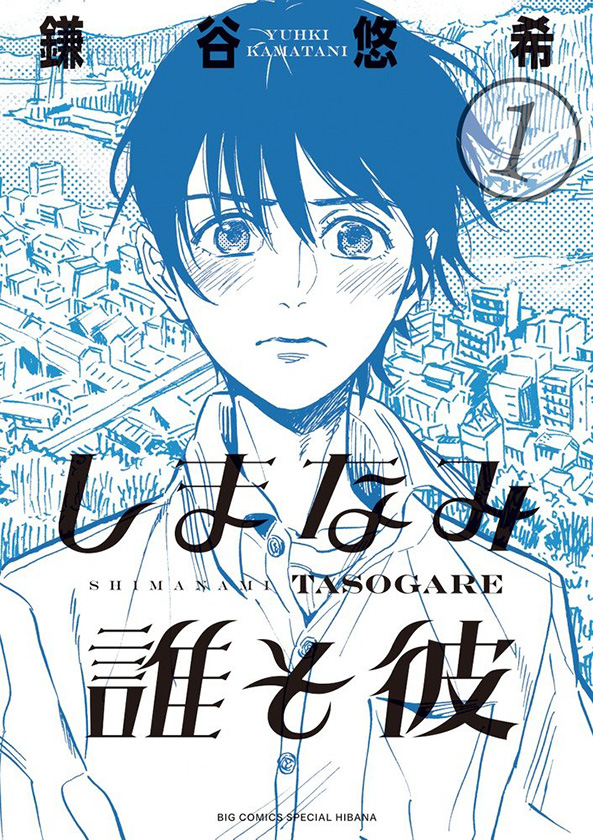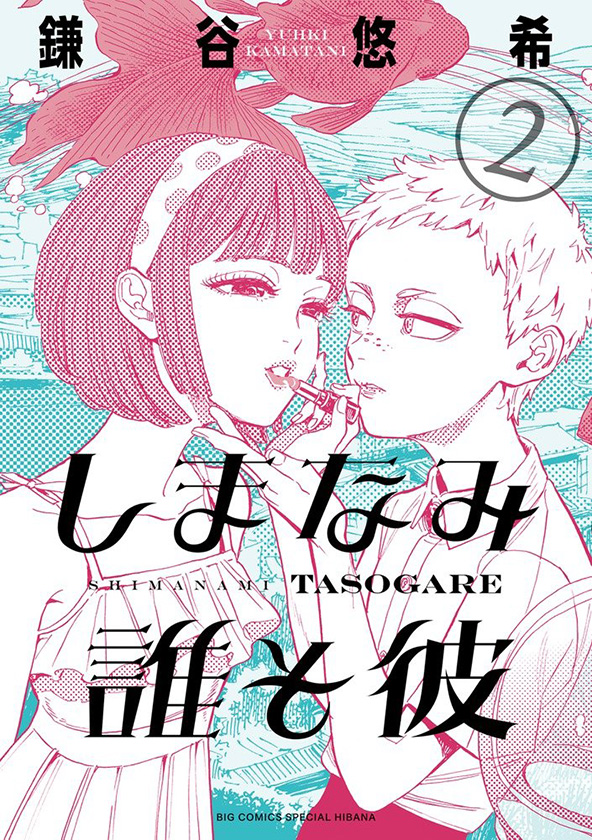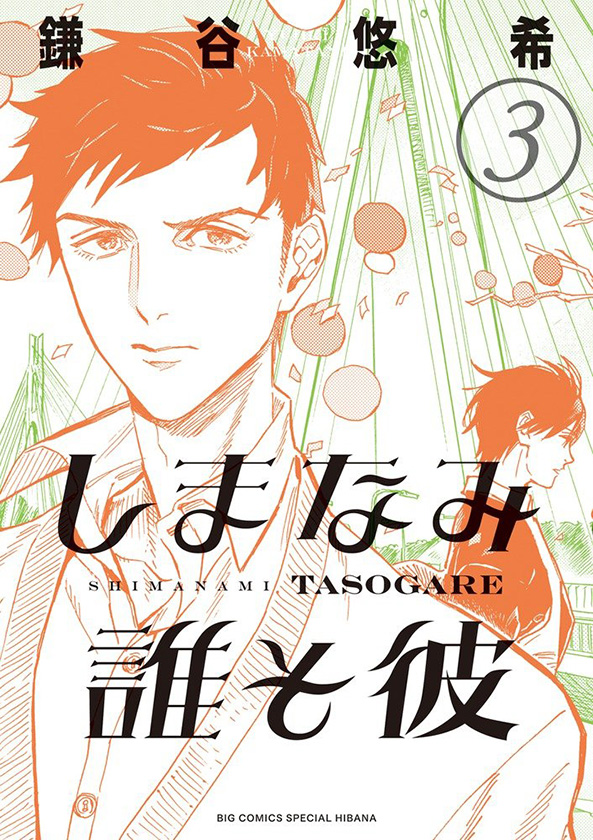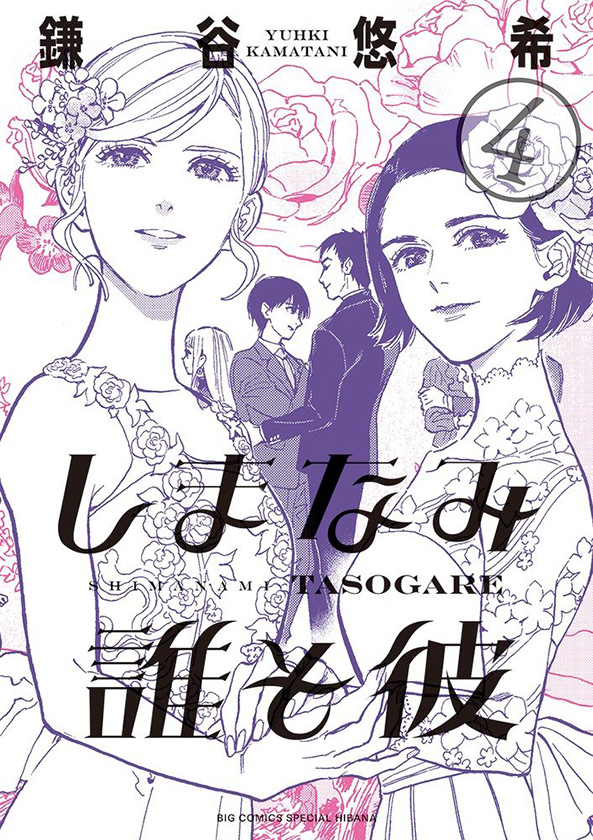 Fiction and art can function as safe spaces in which difficult, even traumatic experiences can be narrated, relived, analyzed, discussed, dissected and brought to the attention of other people. The 4-volume series Shimanami Tasogare was created by X-gender manga artist Kamatani Yuhki for whom the series itself can be seen as such a safe space as it focuses on people who belong to different sexual and gender minorities. And at the same time, the series itself shows how discriminated and oppressed people fight to create such safe spaces for themselves.
The main cast of characters in this extraordinary series are brought together by renovation projects in Onomichi, a city located in Hiroshima prefecture in southern Honshu, facing the Seto Inland Sea (Setouchi) with its smaller islands and Shikoku to the south. In the beginning, teenage boy Tasuku fears he's been forced to come out as gay by his classmates. The four volumes in part tell his journey of coming to terms with his own sexuality while he meets other intriguing individuals and is invited to join them in their non-profit work. These other volunteers, among them the mysterious and elusive Dareka-san, each identify as sexual and gender minorities (i.e. they are homosexual, asexual, transgender, non-binary, etc.) but are also varied in their personal backgrounds and ages. It is part of Tasuku's and the reader's journey through the series to learn that each individual is allowed to take their own time with coming out (or not at all) while they are confronted with society's prejudices, discrimination and violence against them.
Their safe place is an old but cozy house in the hills of Onomichi which they've renovated as part of their volunteer work, offering a space where they can be themselves, relax, listen to music and discuss various matters without having to fear discrimination. This is a place they have created for themselves but it doesn't stop here. Through their non-profit work of refurbishing traditional but derelict houses and finding new purposes for them, they try to bring renewed life – for everybody! – to an area that's characterized by an aging population, urbanisation and younger people moving to the big metropolitan centers. Together, they are committed to keep this area they love alive. And thus, next to the memorable and diverse cast, a second lead character emerges through the manga's beautiful art: the hilly seaside landscape of titular Shimanami itself, the city of Onomichi and its roads and bridges connecting it to the small islands, evoking a gentle nostalgia, a slowing down of events (especially in the hot summers, the seasonal background of most of Shimanami Tasogare), a dreamlike and peripheral idyll.
Despite the dramatic events of the manga, the series ultimately leads to a positive message as it promises hope for a more open, accepting society which protects its minorities and, literally, let's them claim their own spaces. The moving and mysterious story is carried by its expressive, sometimes even surrealist art which is heavily influenced by shōjo manga without it having to proclaim to be either this or that, seinen or shōjo/josei manga – which all points back to the essence of the story itself. The manga was serialized in Hibana (until its demise in 2017), a seinen manga magazine featuring a lot of female artists known for their shōjo/josei manga publishing gender-free/cross-over works for a mature readership in it. Shimanami Tasogare finally ended with its 4th volume in 2018, a book that brought me tears of pain, anger and joy – in this order. It is now making its way around the world, offering most of all the LGBTQ+ community, but also everyone who feels a little different than the mainstream, a source of understanding and support while speaking the very global, universal language of humanism. It is currently available as Eclat(s) d'âme in French by Akata, in Italian by J-Pop as Oltre le onde, in Spanish as Sombras sobre Shimanami by Tomodomo while Seven Seas will bring Our Dreams at Dusk to English readers, with the first volume scheduled for a May 2019 release and the 4th volume to be published before the end of 2019. Without a doubt, this will be a must-read for years to come. 4 volumes, Big Comics Special Hibana, Shogakukan.
Machida-kun no Sekai by Andou Yuki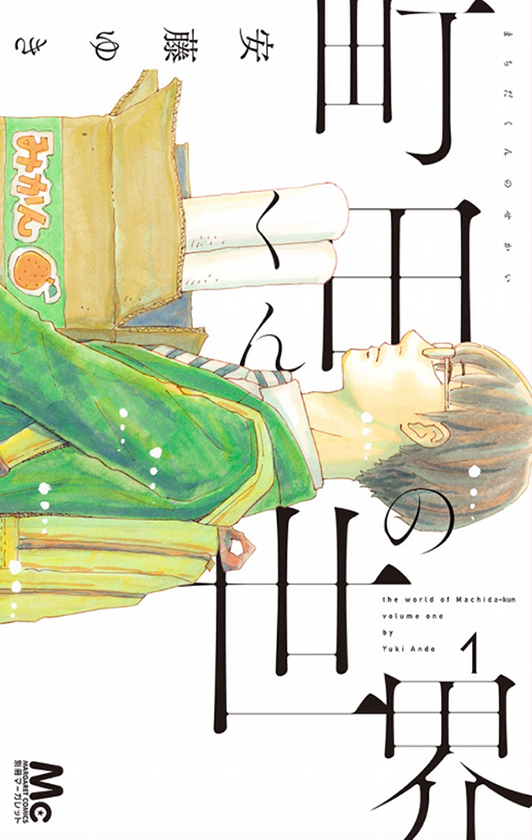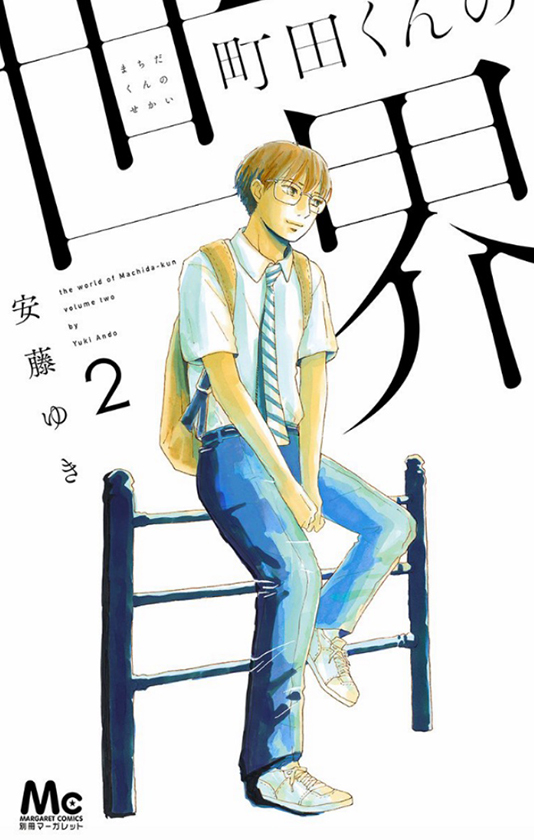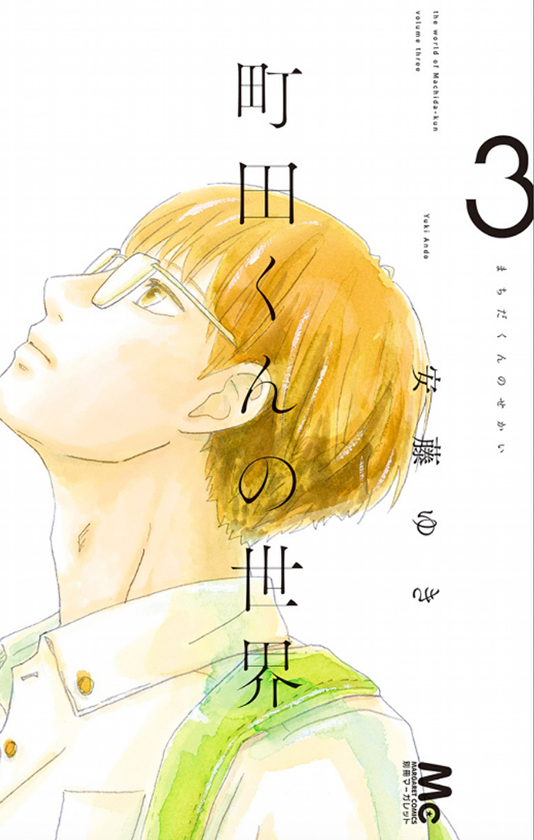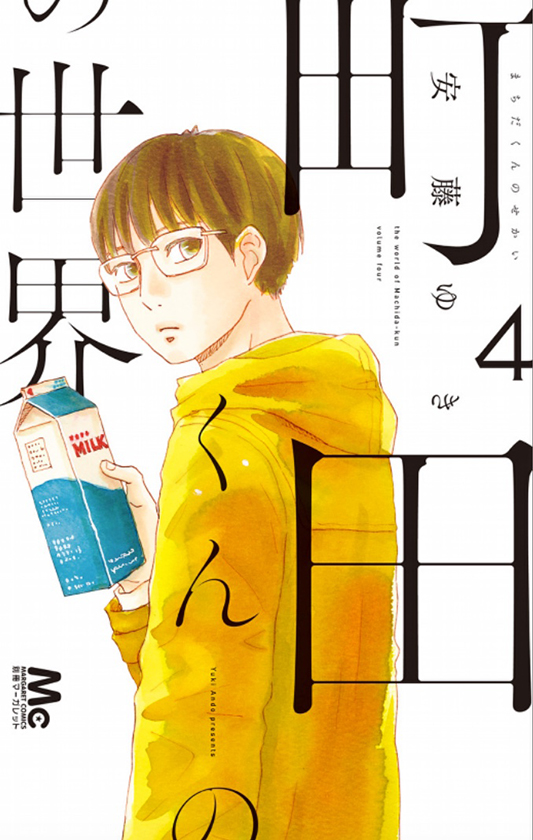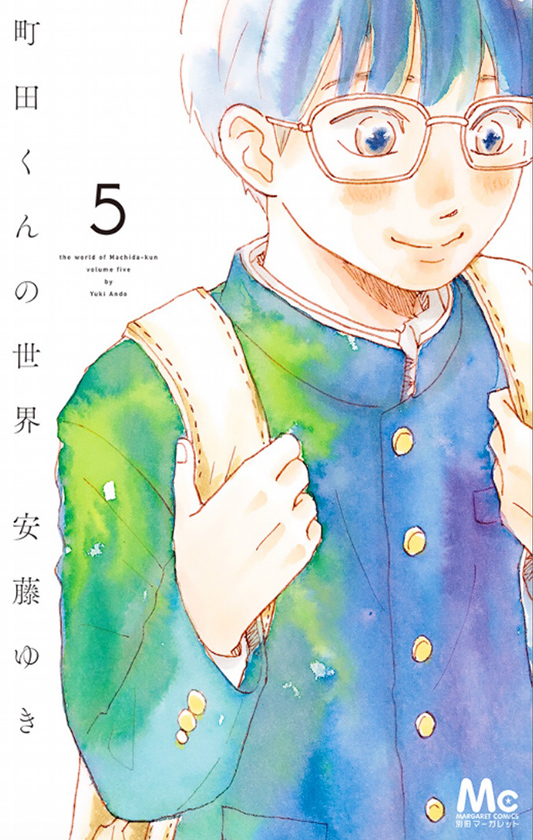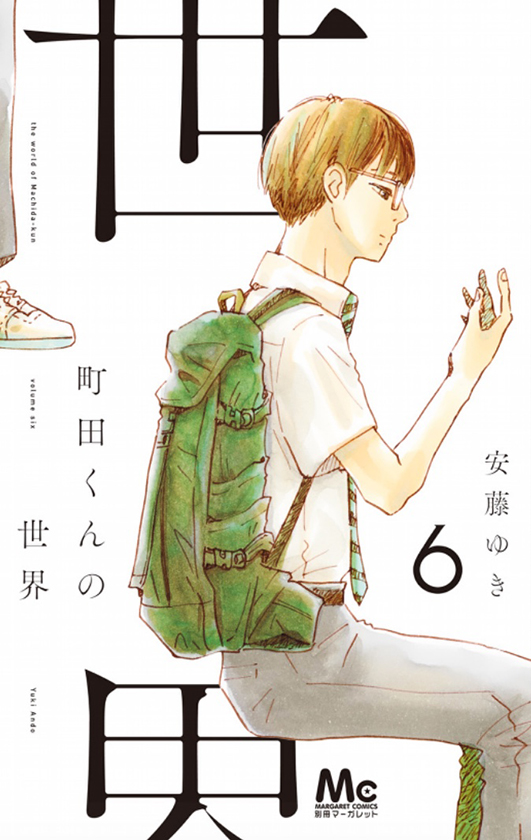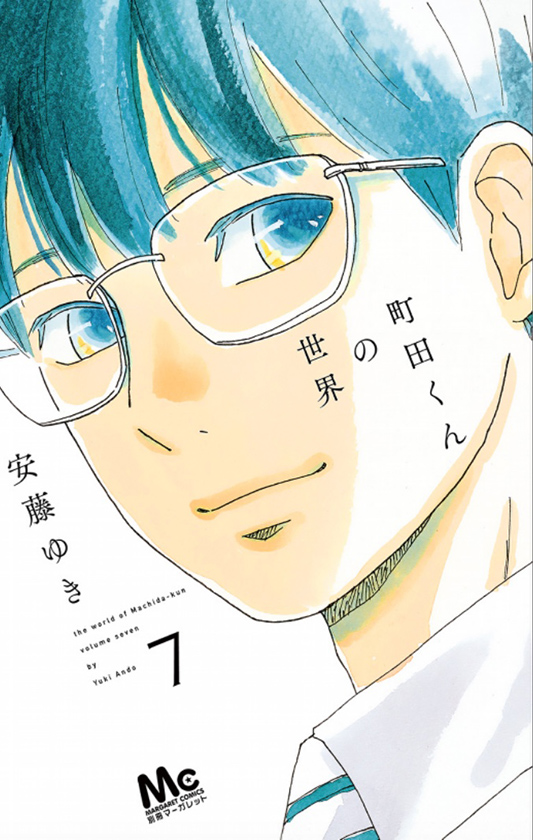 It would be no exaggeration to say that this Betsuma series quietly revolutionized what mainstream shōjo manga can be. Machida-kun no Sekai's male protagonist, the titular Machida Hajime, is perplexing in his selflessness and at the same time in his lack of qualities usually found in male protagonists of shōjo manga: he is clumsy, a bad student (despite his glasses giving him a scholarly look) and terrible at sports. But also self-sacrificing, completely devoted to the well-being of his – rather big – family, especially his younger siblings, but also his friends and complete strangers. For large parts of the story, the non-dialogue is not inner monologue, as would be typical for shōjo manga. Instead, a unique observing voice describes in a dry, honest, objective way how Machida sees the world, how he "turns on his antennas" and becomes receptive to the needs of the people around him. These parts read like the voice-over of a documentary, an impression that's visually supported by thick frames around panels bringing order to the page layouts and the clean art, especially in the architecture and backgrounds. Throughout the manga, the point of view switches, and these descriptions are replaced by the inner monologue of people, strangers and friends, watching Machida, judging him, being surprised or even inspired by him. And then in the later parts, we finally get to look a little more into the inner workings, the thoughts and emotions of Machida as we approach the finale of what is ultimately the love story between Machida-kun and his classmate Inohara-san.
Inohara takes on the part that is usually reserved for the male counterparts of the female protagonists in shōjo manga. Her rough behaviour is explained as her personal background and her past sufferings are revealed bit by bit. Her healing process is propelled forward by Machida-kun but also through her friendship with Maki. Inohara may come across as 'cool' to the reader: you may feel sympathy for her, but she still seems distant. And the same can be said about Machida-kun who is so often observed from the outside. Yet this is exactly what makes the tone of this work so unique and such a pleasant change from the usual shōjo manga mainstream.
Machida-kun no Sekai stresses the importance of friendships by showing how to build and maintain them, of caring for others across all boundaries of age, gender, sex and social class; of family – siblings, parents, parents' siblings. And this family is one that is always open to outsiders – older neighbours and, of course, the girl Machida likes. The ending might seem conservative yet it stresses the value of family itself and of this openness toward accepting outsiders. When you take that into consideration, the ending ties everything together beautifully. The light here always shines brighter here than the darkness. Weaknesses can be overcome or accepted, as strength can be found through the help of others. The series, Andō's first longer work, is so calm and mature in its tone and message that it can be recommended to readers who usually prefer manga for older audiences (both josei manga for female readers as well as seinen manga for male readers!). 7 volumes, Margaret Comics, Shueisha. A live-action movie adaptation is opening in Japan in June 2019.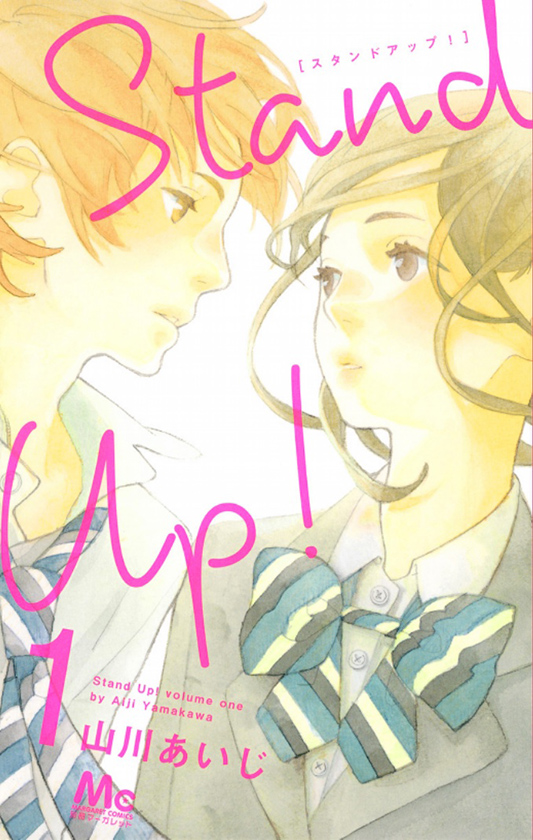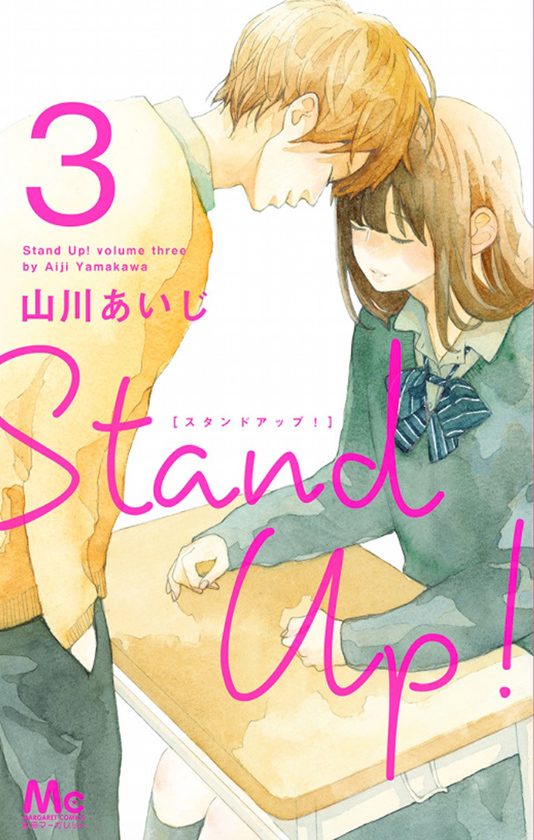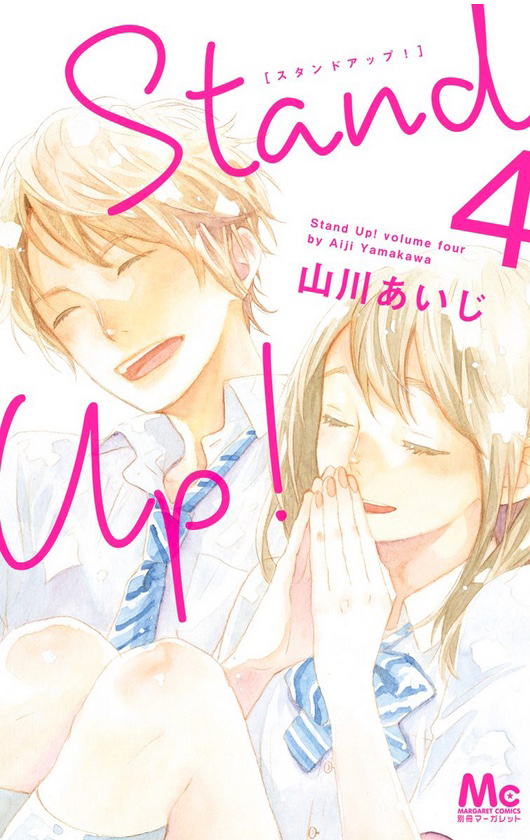 Like Machida-kun no Sekai, Yamakawa Aiji's Stand Up! started its journey in Shueisha's monthly shōjo manga magazine Betsuma, but was later relegated to its sister magazine The Margaret until it reached its finale in spring 2018 after a 3-year hiatus. (You can find more about Yamakawa Aiji and her career in our artist profile.) These magazines are mainly aimed at senior high school-aged girls and manga running in them have to operate within a certain framework. In Betsuma's case, the majority of titles features realistic stories while focusing on romance of the 'pure' kind (i.e. no sexual depictions of any kind, unlike shōjo manga magazines from other publishers), friendship and family. The Japanese school year, and more broadly, the 3 years at senior high, set the timeframe within which these stories are usually told. This is no different for both Andō's Machida-kun and Yamakawa's Stand Up!. But both have in their own ways widened the possibilities of Betsuma's tight set of rules.
So it is in this hermetic world of a Japanese senior high school and its daily afterschool activities which last well into the afternoon that Stand Up!'s two protagonists meet. Utako and Naoyuki are classmates and they couldn't be more different. Utako always stands out with her current height of 172 centimeters when in fact she'd rather just be invisible to everybody because she is painfully shy and on top of it, feels embarrassed because of her big ears. Naoyuki is very popular and easily makes friends because he can make everybody feel comfortable. But then he starts teasing Utako for her 'monkey ears' – and Utako for once feels strangely glad to be noticed. It doesn't take too long until the two fall in love and become a couple. Which adds to Utako's stress because with Naoyuki at her side, there's absolutely no way now she can make herself not be noticed anymore. Through the typical events of the Japanese school year and the couple's dates during their private time, the two figure out the other's weaknesses while also growing stronger as individuals and as a couple. These scenes perfectly convey the sense of embarrassment and confusion that's so typical of that stage in life. Growth here comes gently and without the over-the-top drama that would be used by other artists.
What really stands out in this series is how well the dynamics of the group of friends with the Utako/Naoyuki couple in the center are described. On the side of the female characters, it's encouraging to read how both Utako and her best friend manage to overcome past toxic relationships and move forward. Naoyuki, on the male side, is an incredibly fascinating character. Like Machida-kun's family in Andō's manga (see above), Naoyuki has a strong family background. His family owns a small restaurant and he's been taught to be open, friendly and supportive. Just like with his group of friends which here isn't an impenetrable entity. It is always open to outsiders, it doesn't close itself off. The most obvious example for this is a boy named Inui, a hikikomori who no longer comes to school. The classmates decide to visit him and offer him their help. When he rejects them, Naoyuki doesn't let up as he genuinely cares about those around him – and one day, Inui starts explaining his background to Naoyuki which ultimately leads to his healing. Interestingly enough, unlike the genre conventions, this is not a plot device to make Naoyuki seem like the perfect, knight-like partner to Utako. Naoyuki genuinely treats every person around him with respect and listens to them. His motivation isn't to make himself more attractive to his girlfriend or to impress her, which is a nice vision of how men can be without losing a bit of their masculinity.
Through caring and nurturing friendships and relationships, these characters create an accepting and understanding environment. The atmosphere here is always warm and positive, never superficial or even hostile. Even the most painful experiences or desperate-seeming situations can be overcome here with hope, healing and forgiveness. If these young people were real and kept this attitude, imagine what empathetic and caring adults they could become, what a great society they could help build…! In this way, through the vehicle of school romance shōjo manga, Yamakawa tells a humanistic story that's positive without being too loud, without being violent. This gentleness is reflected in the art, in the warm palette of beiges and browns of the hardly there watercolour illustrations which seem almost like faded but fond memories.
It is really impressive that despite her struggles with her work as a manga artist, Yamakawa Aiji finished Stand Up! by picking up the pre-hiatus strands perfectly and seamlessly. The art of the newer material is just as fluid and full of motion and life-like gestures as it used to be and convincingly concludes the story. As airy and light Yamakawa's art is, as complex is the psychological fleshing out of her characters. Like I wrote in Yamakawa's artist profile and in the post concerning her 2018 comeback, I'm still convinced she is an extremely gifted talent, even if her professional career is riddled with periods of absence & hiatus. Now that there seem to be dark clouds on the horizon again (her latest series 2.43 Seiin Kōkō Danshi BarÄ"-bu in collaboration with Kabei Yukako in Cocohana is on indefinite hiatus again), I wish to see more from her in 2019 and hope that circumstances will allow her to release her work again soon! 4 volumes, Margaret Comics, Shueisha.