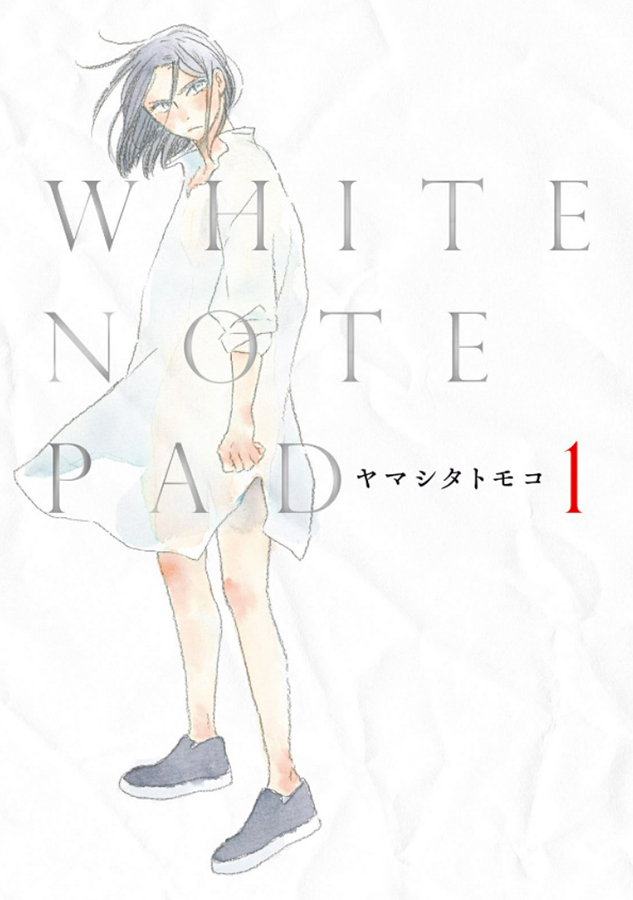 Imagine finding yourself in the body of somebody else, all of a sudden able to explore another person's life while also being cut off from the life you lead in your 'old' body. And finding out the previous 'owner' of your current body is now living in your 'old' body. Sounds both frightening and kind of exciting, doesn't it?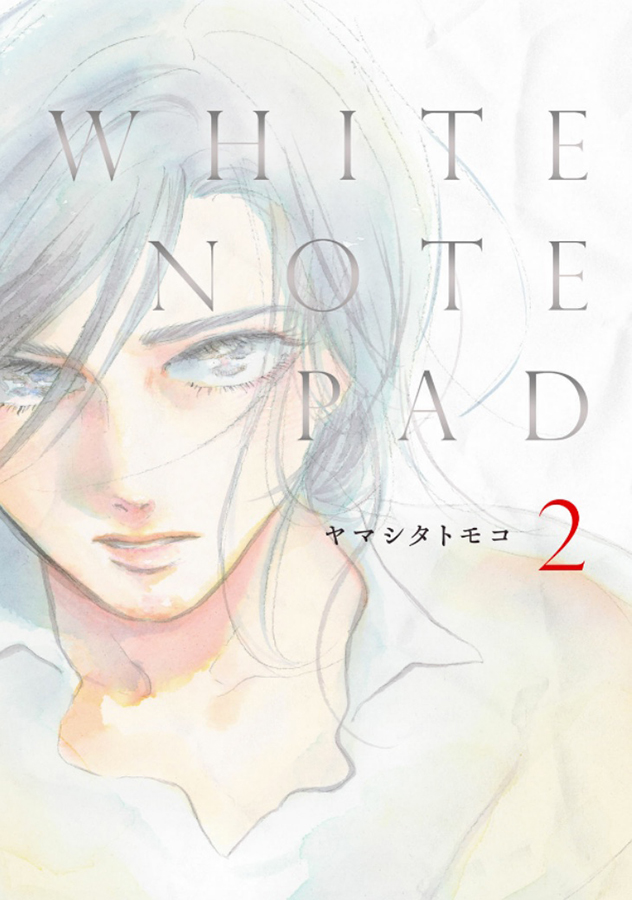 In Yamashita Tomoko's 2-volume manga WHITE NOTE PAD, two people leading fundamentally different lives have become victims of such a body swap experience caused by supposedly cosmic circumstances: 17-year-old schoolgirl Odamaki Hana and 38-year-old automobile engineer Kine Shōgo. Now, two years later, they unexpectedly meet each other, their respective old bodies, and have to confront the fact that their old lives are no longer their own and also, that they both are no longer able to live without the other…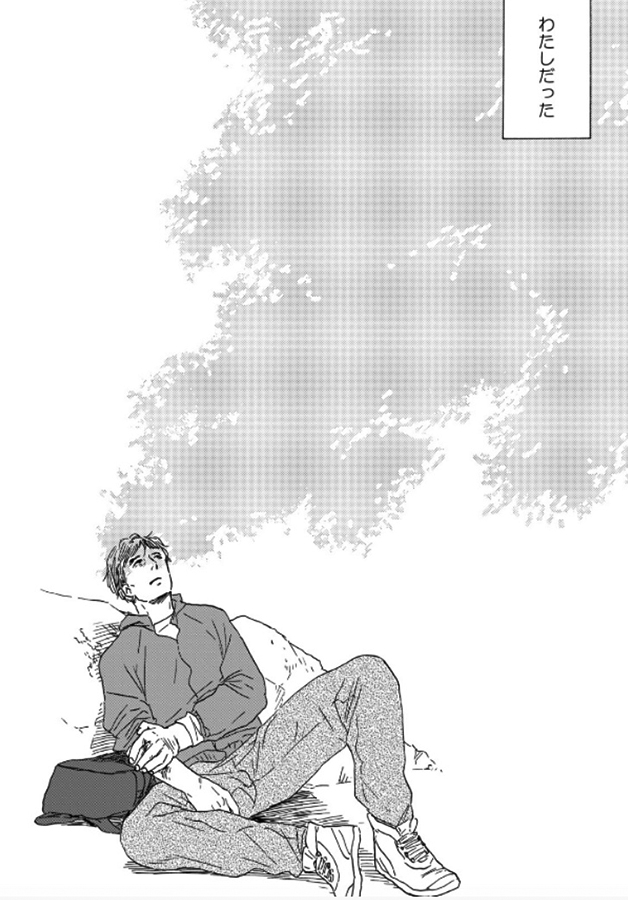 As we soon learn, it is Kine, now in the body of Hana, who seems to have adapted seamlessly to the body switch. He has become a successful model working for a young women's fashion and lifestyle magazine. After they meet again, he-as-Hana is able to secure Hana, now in the body of Kine, a job as an assistant for the editorial department of the fashion magazine Hana models for. Hana-as-Kine, on the other hand, has had to pretend to suffer from a sudden memory loss as she was understandably unable to function in Kine's workplace in an automobile factory. She also has to realize that Kine has been living a pretty lonely life with just a small social circle of co-workers and friends, a situation that deteriorates further after Hana-as-Kine has to quit his job. But while she still has the mind of a now 19-year-old girl who used to be rather shy in school, her shoulders always hunched forward, she's starting to work hard in her new job with her own trademark empathy for the people around her, making friends among the magazine staff and slowly improving the career and even the outward appearance of Kine, her 'new' body and identity.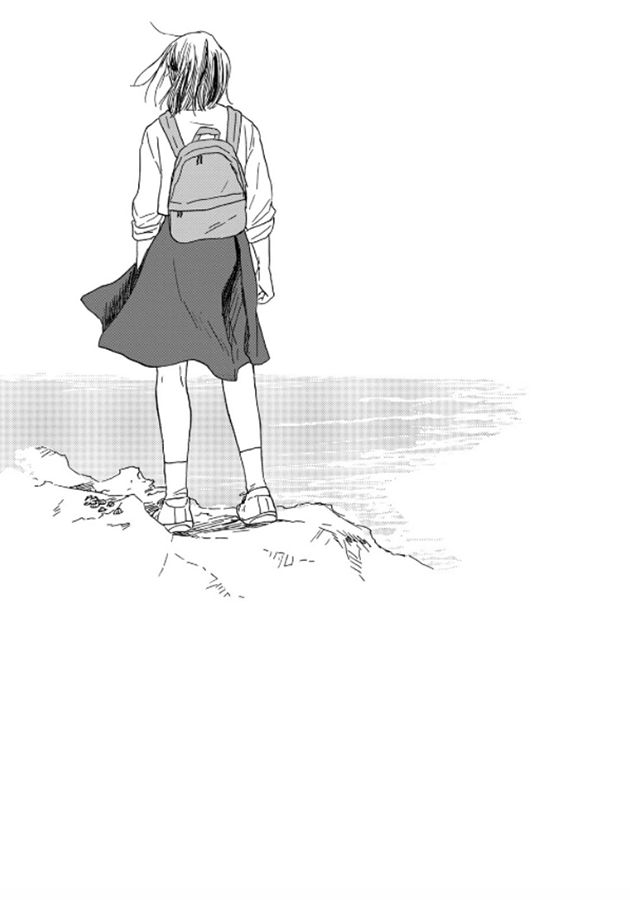 Kine has been enjoying a new-found freedom and excitement as the inhabitant of the body of a young woman. He's become a little addicted to everyone complimenting him on his body and feels good exposing it, literally posing as Hana – in front of the camera and for the people around him. Eager to explore his sexuality as a young woman, he even starts dating a young co-worker. At the same time, he's a little careless with the body given to him when it comes to his sexual endeavours, resulting in a change in Hana's 'old' body that will have a huge impact on the way Kine and Hana are linked to each other…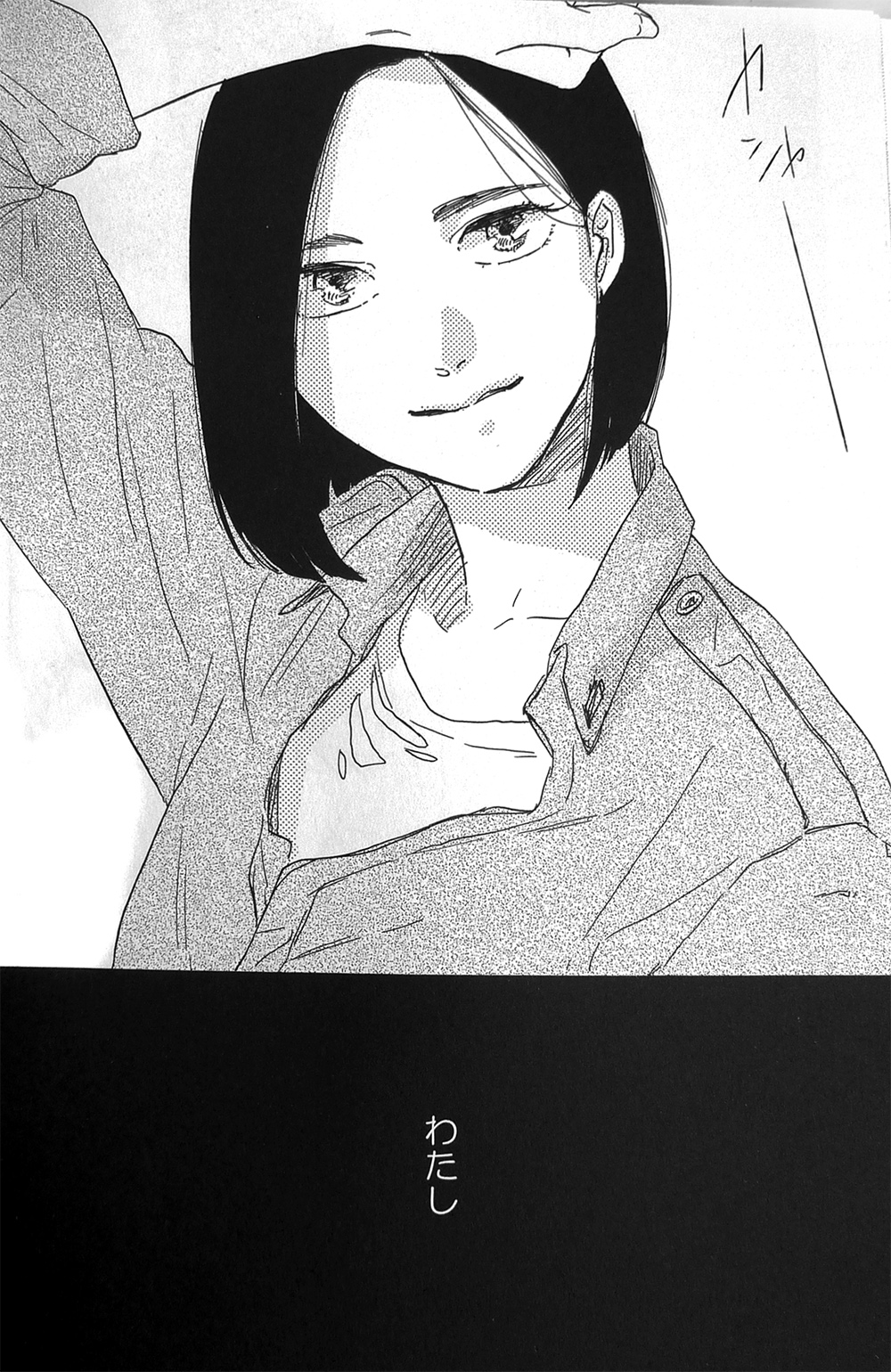 The mastermind behind this intriguing story is Yamashita Tomoko, who enjoys immense popularity as both a Boys' Love manga artist and a regular contributor to Shodensha's josei-oriented manga magazine Feel Young, in which this 2-volume manga was serialized. Here, in WHITE NOTE PAD, she uses an interesting time frame: the body switch caused by (super)natural circumstances is mentioned in the beginning as the event that robbed Hana of her old life. But Yamashita leaves the causes and technicalities of that mysterious incident unexplained and her protagonists, while struggling with the body switch itself, seem to accept it as irreversible.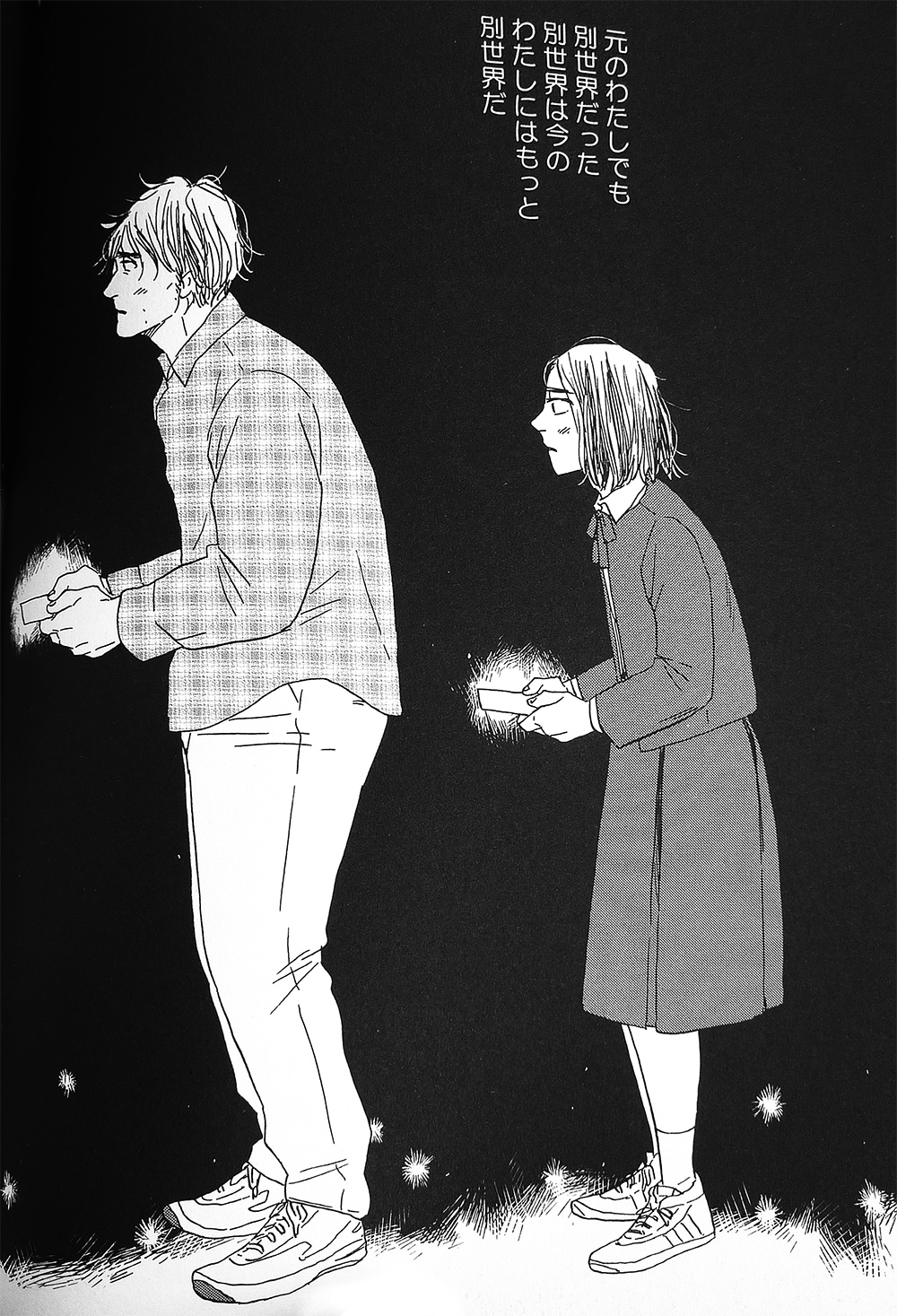 After that introduction, we are propelled forward into a present two years later when both characters have already adapted to their new bodies. We are provided with flashbacks later on in the story and only then we are confronted with body swap clichés of the very physical what-would-I-do-with-myself-if-I-were-a-young-woman (or man, respectively) kind. Yamashita subverts these expectations of the body swap genre even further, as these stereotypical scenes of familiarizing yourself with a body of the previously opposite sex are delivered in a drily comical, detached tone. They are not sexy in any way but depicted rather matter-of-factly, with its characters, especially Hana (now in the body of a 40-year-old man), coming across as clumsy but also resignatedly accepting. Visually, this is supported by Yamashita's fantastic sensibilities for body postures and facial expressions which form an integral part of the character development and make it possible to tell this story in a subtle way and leave a lot unsaid.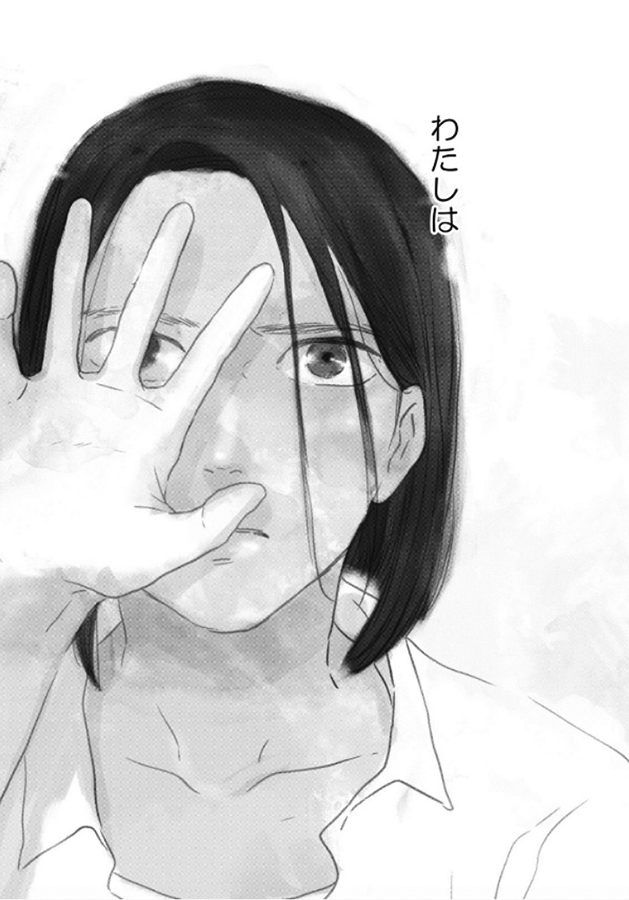 Yamashita's clean, realistic art which uses lots of white and contrasting black spaces supports the often matter-of-fact tone and the stream of consciousness style monologues which are constantly reflecting on the question of the two protagonists' completely new identities. That visual style counters the heaviness of the story which often just hints with a few lines at what drives or even torments the two main characters, just like the quiet scenes of everyday life balance out the heavier topics of identity, gender expectations, sex and social life including family. Throughout the manga, Yamashita reuses the imagery of water, the sea, the coastal landscape and the wind – the scenery in which that fateful body switch happened to Hana and Kine. Clean and tidy page layouts during quiet slice-of-life scenes often dissolve to make room for aquatic imagery and a fluid, sketch-like style. The color images for the cover artworks in their very light watercolors and pencil outlines might seem like sketches, too. The cover of the first volume, for example, shows an almost ghostly Hana wearing a semi-transparent dress, showing off her body while we have to acknowledge the fact that we're unable to truly look inside her, to see the mind inside her body. So we're left wondering: is it the 'original' Hana, or is it Kine's mind insider her body?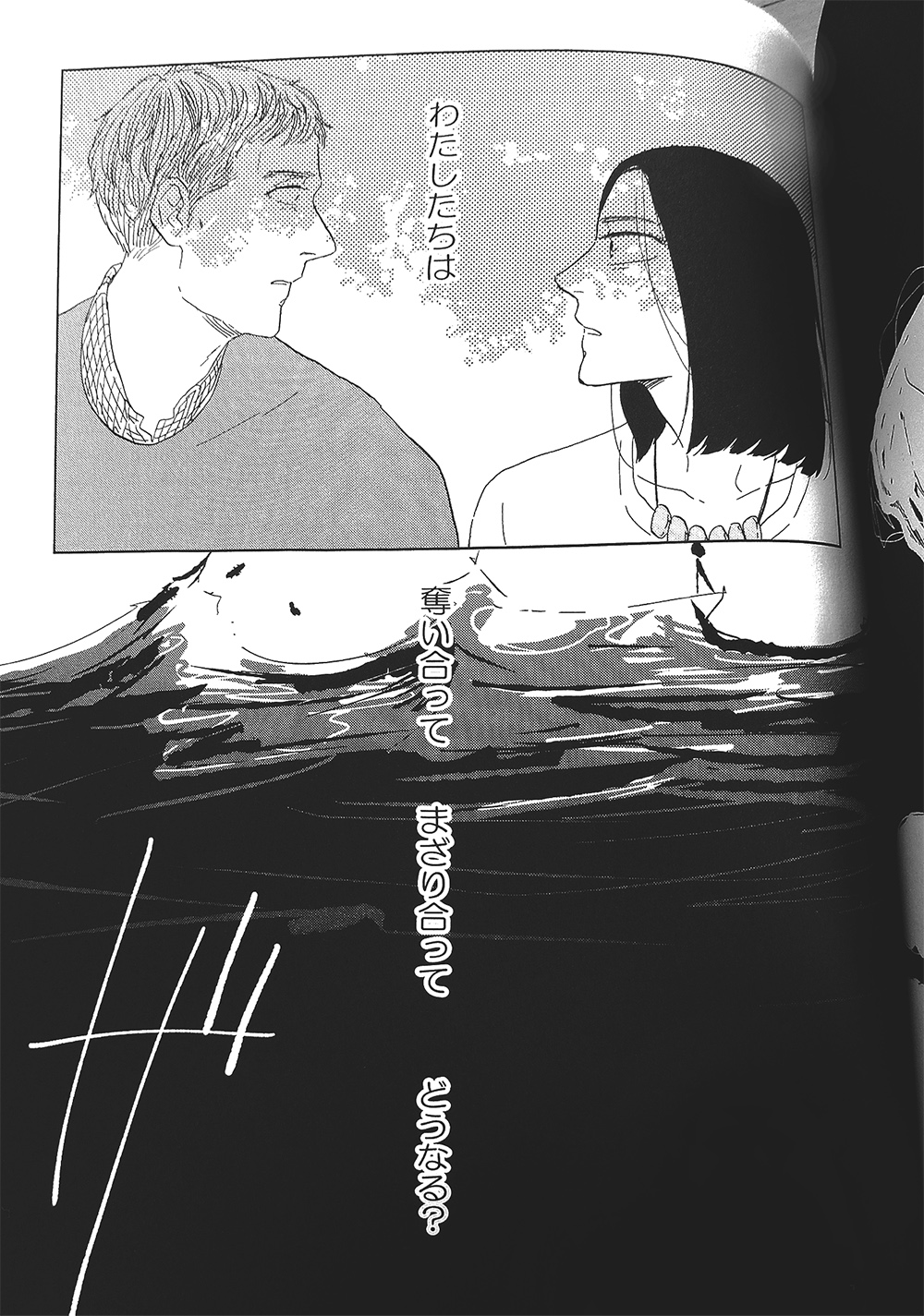 The aquatic imagery is repeatedly used here as a metaphor to express how both protagonists become entangled with each other, physically and mentally. They are on a journey to create meaningful futures for themselves and, given the chance to literally be somebody else, to fulfill their own expectations of what a meaningful life should look like. They are now formed and defined as people both by their previous memories and experiences in their 'old' bodies AND the way people react to them now in their 'new' bodies, the expectations people have of them now. So their minds are in a sort of middle position were the old and the new, the internal (their own points of view) and the external (the expectations and reactions other people have in relation to them) are starting to become intertwined. After mentally growing into a body of the opposite sex and its specific environment while retaining their original personalities, that specific body and environment has been making them act in certain ways, giving them new possibilities and ambitions, which in turn change them and their personalities. So they have to realize they're turning into completely new people they wouldn't have become without that body switch experience. They also have to come to terms with the fact that they will be linked for the rest of their lives and that the process of becoming 'mixed', which is constantly alluded to in the internal monologues, is still ongoing, an internal process visually reflected through waves and similar water-related symbols.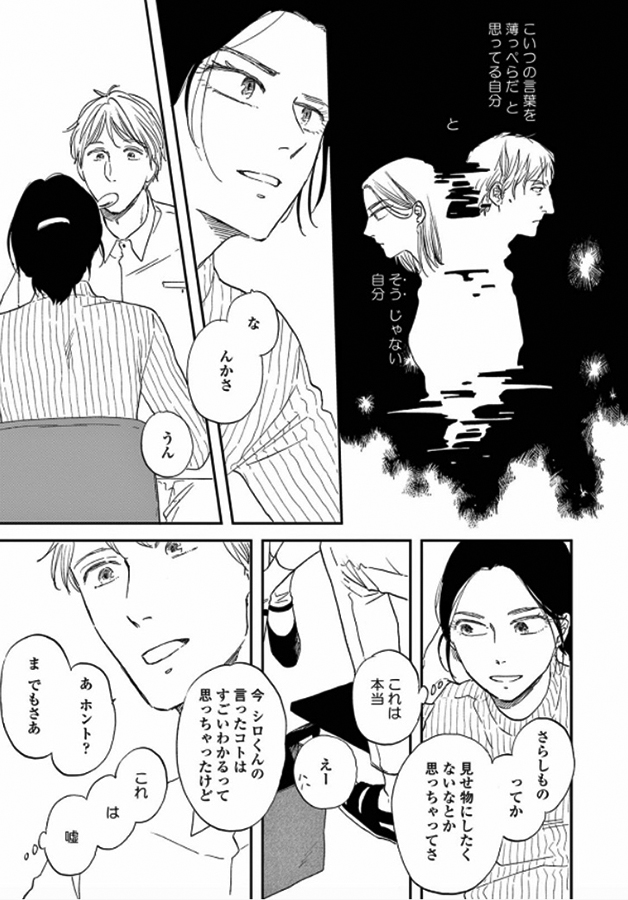 After they meet again, things get even more complicated as they're now intergral parts of each other's lives. They are no longer isolated and one person alone, but a pair, two inseparable people forever bound together as at the end of the manga, they're gearing toward a huge change in Hana's life which will seal the pair's fate forever. This gives them the strong advantage of no longer feeling the kind of existential loneliness other 'normal' people feel which is ultimately one of those unexpected, eye-opening moments the reader experiences throughout this intriguing story.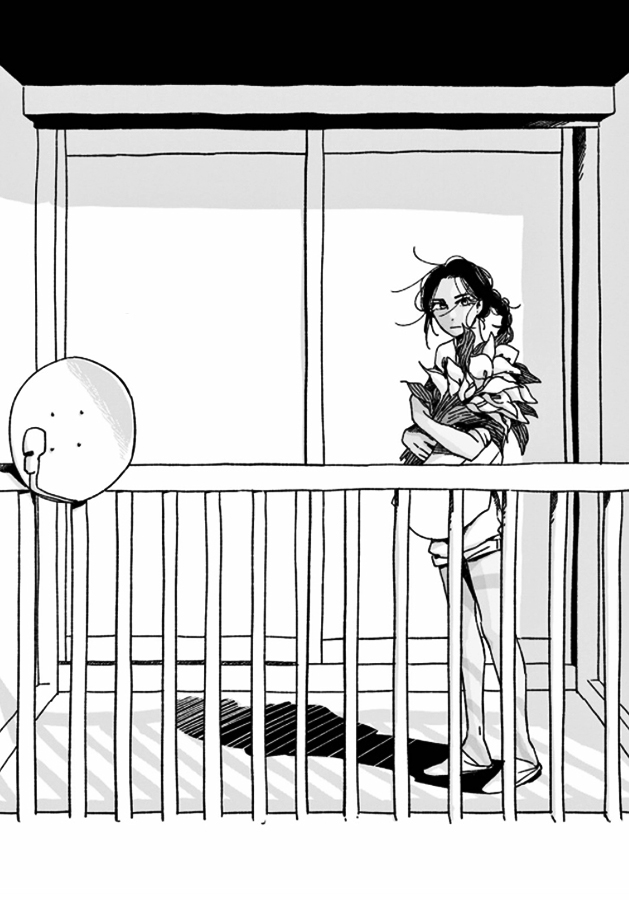 The body swap in WHITE NOTE PAD functions as the starting point of a journey for both the characters and the reader. It is an interesting fantasy grounded in magical realism (with the emphasis on realism) and, after all, an experience only fiction can provide. While the series is pretty short, it is still packed with surprising twists and turns, impressive character development, and thought-provoking gender politics. This being a josei-oriented series aimed at (young) women it is not surprising that there's not an overwhelming amount of fast-paced action – except maybe toward the end which comes a little abrupt, making it almost difficult to already say goodbye to these two people who, in the course of the story, have so curiously become hard to separate.
While the manga is very introspective, emotional and literary (also in the sense that this is a manga that can easily be enjoyed by people who usually read literature only), the conflicts depicted in it are never overdramatized. Through the protagonists' strong will to make the best of their situations a resolution is always on the horizon as these two characters really try to evolve. So despite the roughness and complexity of the manga's topics, Yamashita Tomoko provides us here with a warm, positive view of what human beings are capable of which makes WHITE NOTE PAD an absolutely satisfying and even inspiring read.
Title: WHITE NOTE PAD
Author: Yamashita Tomoko (ヤマシタトモコ)
Volumes: 2 (2015-2016; completed)
Magazine: Feel Young
Label: Feel Comics FC SWING
Publisher: Shodensha
Additional information: Preview the first pages of volume 1 here.