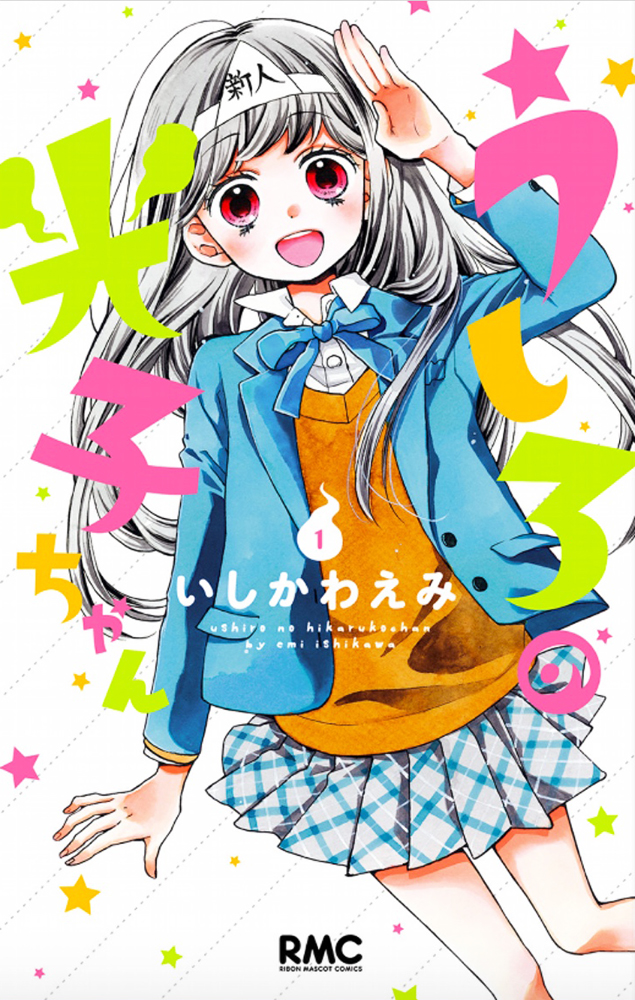 In the past few years, the big three manga magazines for elementary school girls have been spicing up their usual mix of romantic comedies, school dramas, idol and magical girl manga with a spine-tingling element of horror. Ribon's most successful title of this wave is Ishikawa Emi's Zekkyō GakkyÅ« (Screaming Lessons, alternatively Scary Lessons for its French and German translations by Tokyo Pop) which was published as 20 volumes from 2009 to 2015. This collection of surprisingly shocking short stories – considering its young target readership – was turned into a live-action movie in 2013, received the Shogakukan Manga Award in the childrens' manga sub-category in 2014 and has recently been revived for a sequel called Zekkyō GakkyÅ« Tensei (Rebirth), with 6 volumes published so far.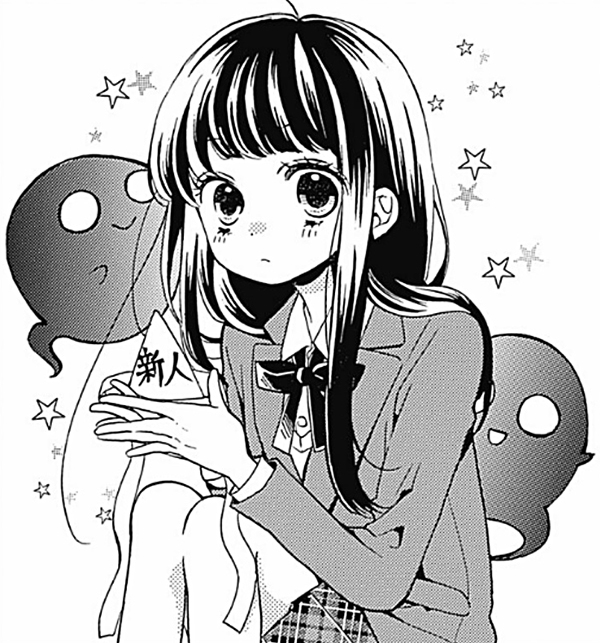 Right between the original series and its sequel, Ishikawa worked on a shorter, 2-volume series titled Ushiro no Hikaruko-chan (lit. Hikaruko-chan Behind You) which gives off a distinct Japanese horror flavor just like Ishikawa's longer hit title but relies much less on shockingly scary scenes and replaces them with a bittersweet portray of a ghost girl who's trying to reach back out into the world of the living.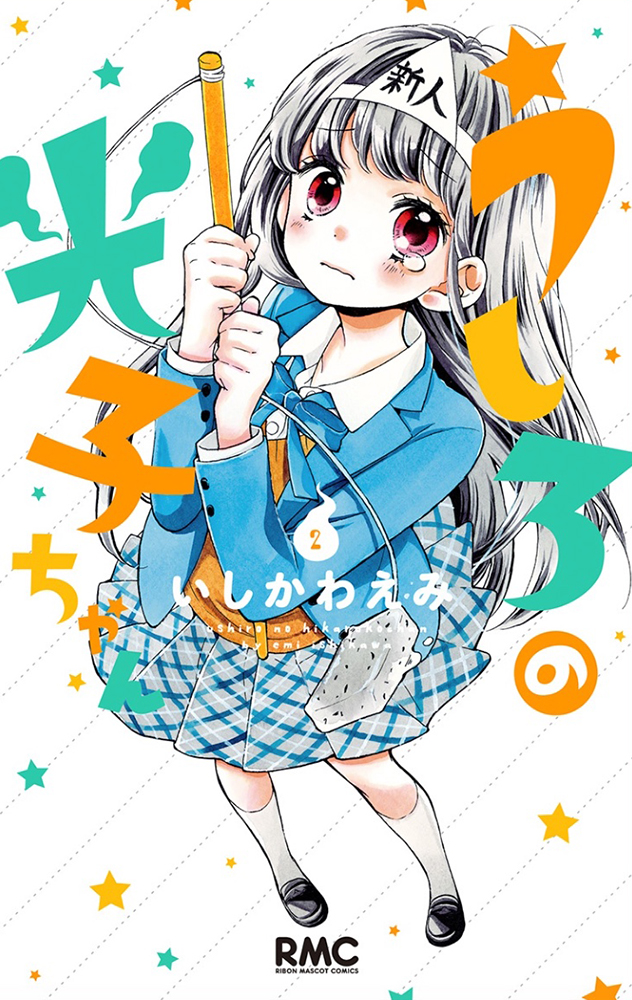 After an accident that should have been fatal at the young age of 14, timid Asahana Hikaruko finds herself unable to leave our world completely behind her. Her lingering attachment to her old life and Haruki, the boy she's had a crush on for so many years but for whom she was unable to openly show her support, leads her into an arrangement with a handsome instructor of the office for vengeful spirits. From now on, if she doesn't want her spirit to disappear completely, Hikaruko has to prove herself as an onryō, a vengeful spirit, by scaring her designated 'targets', making them scream or cry with fear. But instead of being all that frightening she's much more interested in helping others, for example Hana, an elementary school girl who is bullied at school and almost driven into suicide before Hikaruko gives her the strength – a little push in the back – to confront those torturing her.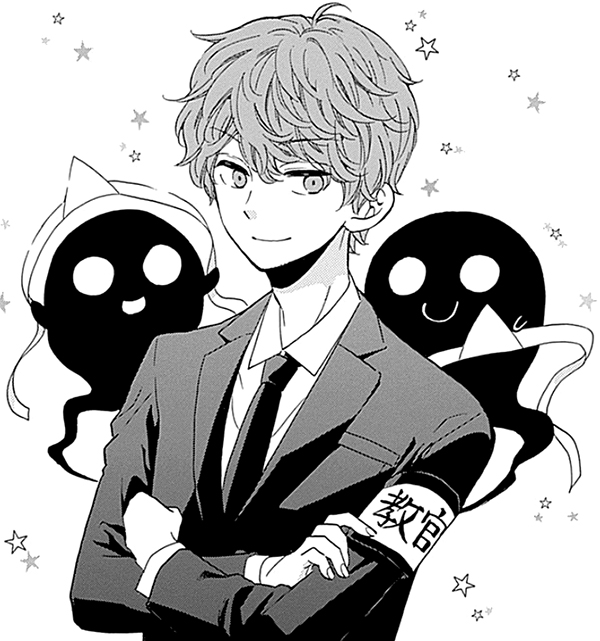 Thus, Hikaruko's boss is starting to run into trouble because his novice isn't able to prove herself to be much of a success by the standards of the other vengeful spirits. Hikaruko-chan however carves out her own identity as a supporter to those in need, something she herself wasn't capable of doing during her lifetime. Sooner or later this will inevitably lead to Hikaruko and Haruki meeting again, but in a different way than Hikaruko imagined it, and Haruki will have to decide between – literally – the world of the living and the dead.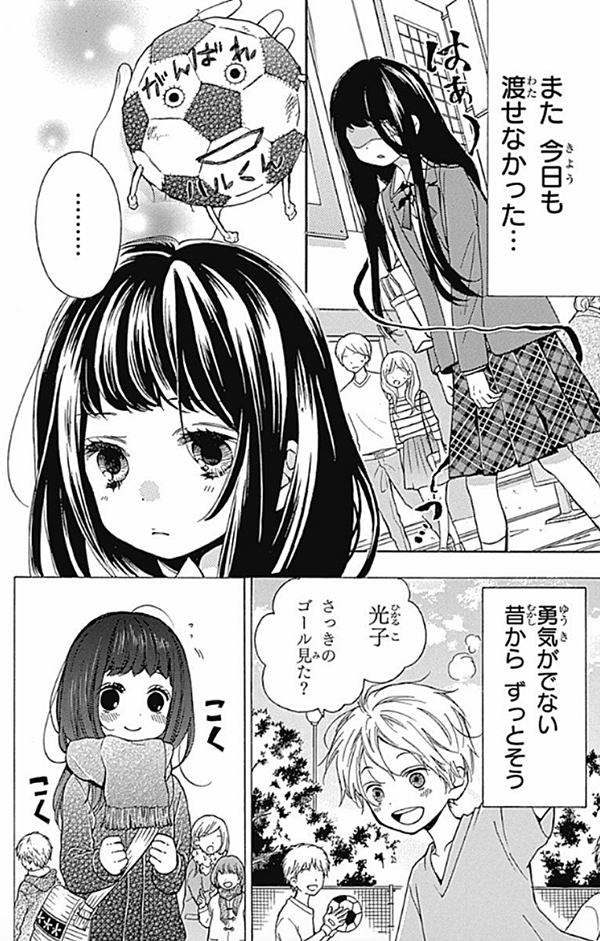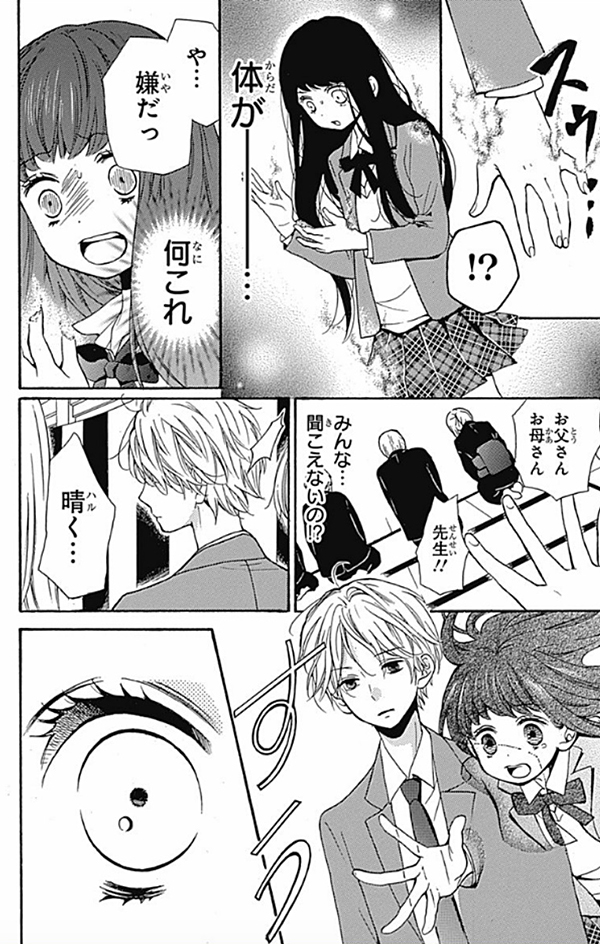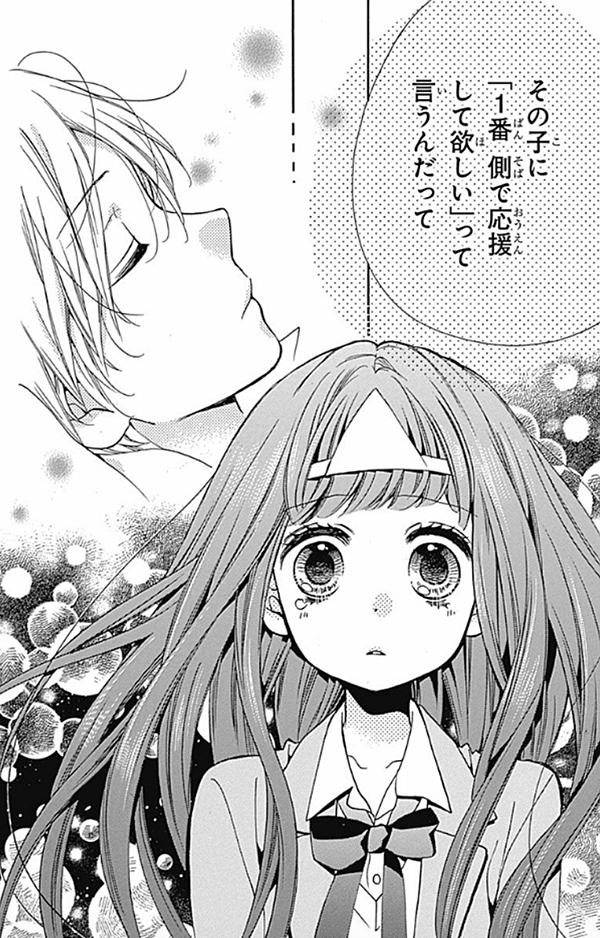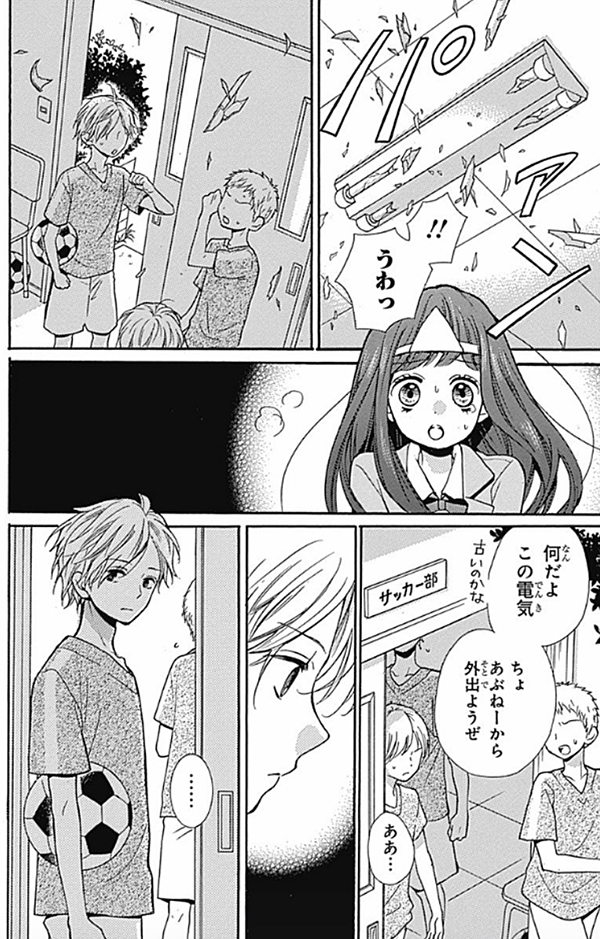 Ishikawa's short but sweet series provides a peak into the lessons learned between life and death making use of the concept of miren (未練), a sort of regret or – more positively – lingering affection and attachment that let's our protagonist ghost girl stay close to the world of her old self but also makes it hard to let go of the people she used to love. In the course of her existence as a spirit, Hikaruko learns to motivate people to move forward, to seize the day and make the most of the time that is giving to them during their lives, something that unfortunately Hikaruko no longer has the chance to do.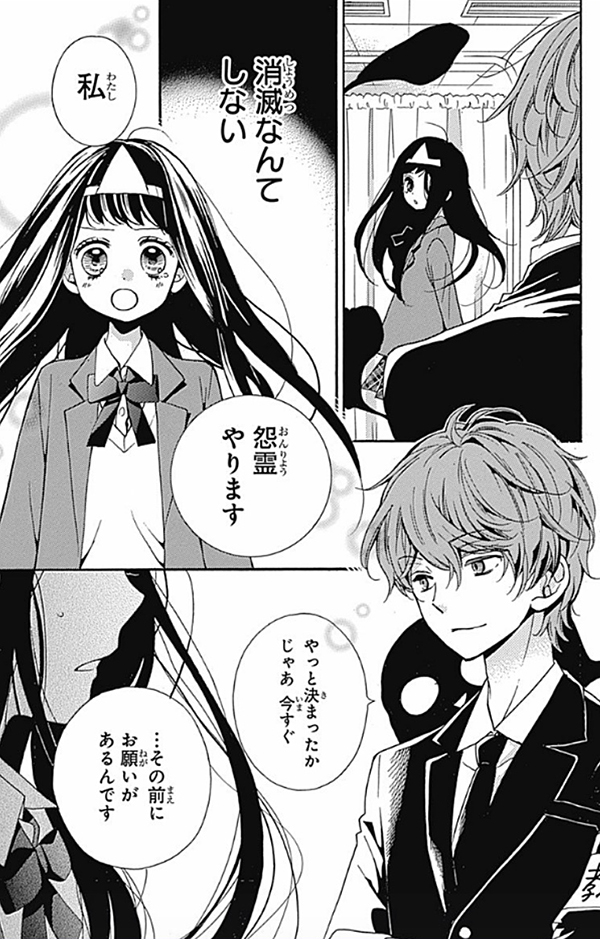 Both the episodes told throughout the series and the overarching plot are engaging and touching as Ishikawa has managed to create a likeable protagonist facing a task she thinks she's completely unfit to fulfill and an interesting and diverse cast, like the handsome older ghost instructors or eccentric vengeful spirits. Each side character leaves an impact, influencing the main story around Hikaruko and her crush Haruki, propelling it forward with Hikaruko's emotional evolution as a ghost, the dead girl watching over everyone protectively from behind.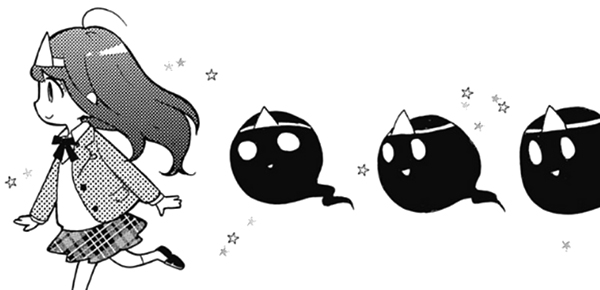 With its cute character design and an intriguing ghost story that's never too complex, there remains no doubt that this series is primarily targeted towards a very young readership. But its well-balanced mélange of the spooky, the funny and the melancholy should speak to older shōjo manga readers as well. Whereas there are some pretty heavy shocking moments in Ishikawa's long-running hit series Zekkyō GakkyÅ« and its Tensei sequel, Ushiro no Hikaruko-chan only as a very mild horror taste making it perfect for people who usually don't read horror manga and also need a bit of psychological depth and development in their stories. With these two volumes you're in for a nice treat for the Halloween season without a second of boredom. And despite the heavy topic of death looming in the background and its urgent message to support the people you like while you can, there is a lot of warmth and humour here which makes reading this series all the more satisfying!
Title: Ushiro no Hikaruko-chan (うしろの光子ちゃん)
Author: Ishikawa Emi (いしかわえみ)
Volumes: 2 (2015)
Magazine: Ribon
Label: Ribon Mascot Comics
Publisher: Shueisha
Additional information: Have a look at the first pages of volume 1 and 2 on the publisher's site. In an author's comment on the inside of the dust jacket of volume 2, Ishikawa mentions her eagerness to continue working on this series. No news on that for the moment though, so this should be considered a completed series for now.
On a final side note, I really like Ishikawa Emi's non-horror short stories she's published in Ribon and its special seasonal editions – I really hope they'll be collected in tankōbon format soon! (Shueisha, do you hear me?!)