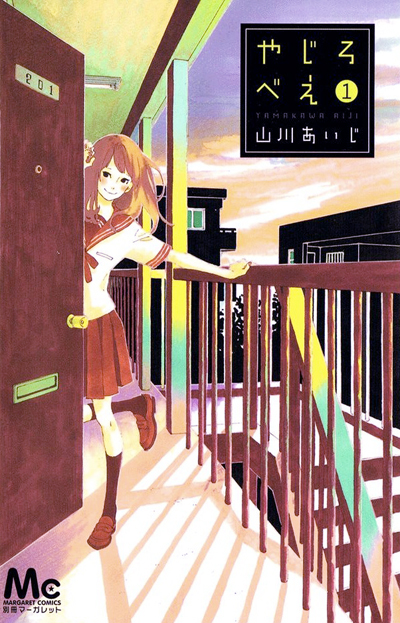 One of the most horrible things that can happen to a young child is to lose its mother. This is exactly what happened to 5-year old Haru. Now, 10 years later, Haru looks back on her life with Seiji, her stepfather. Both are the only family they have for each other as Seiji has been keeping his distance from his own blood relatives since his strict grandmother never liked Haru's mother. Haru realizes that Seiji still misses her mother and feels sad about the empty space she left behind both in his and in Haru's life. Haru on the other hand also notices small changes in her feelings toward Seiji which leads her to confront the question what Seiji's role has been so far and will be from now on in Haru's life.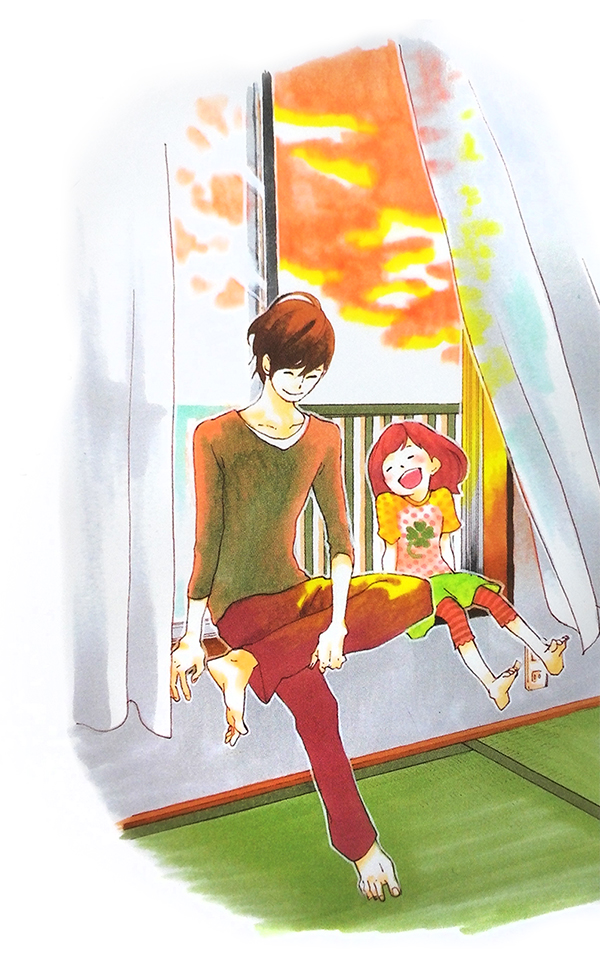 Just like with a yajirobÄ", a T-shaped balancing toy with two little balls or weights hanging on the opposite sides of a thin strip of metal or other materials that spins around on a wood handle, the characters of the same-titled short manga series by Yamakawa Aiji (see our mangaka profile for her here) find themselves always at a distance from each other, a distance they reluctantly try to overcome. In a way, Haru can be seen as the wooden stick of the toy, the center around which different pairs of people circle. She observes their relationships to each other and to herself. When Seiji and Haru have to move out of their soon-to-be demolished apartment, she meets her childhood friend Bonta who she hasn't seen in more than a year after he and his parents had moved out of the apartment next door. He's a year older than Haru and classic shōjo manga love interest material – cool and aloof on the outside but also clumsily caring and attentive towards Haru. Haru cannot help but slowly realize there is now more than pure friendship between them. After she successfully manages to get into the same high school as Bonta, they see each other more regularly at school, a perfect chance to get a little closer to each other.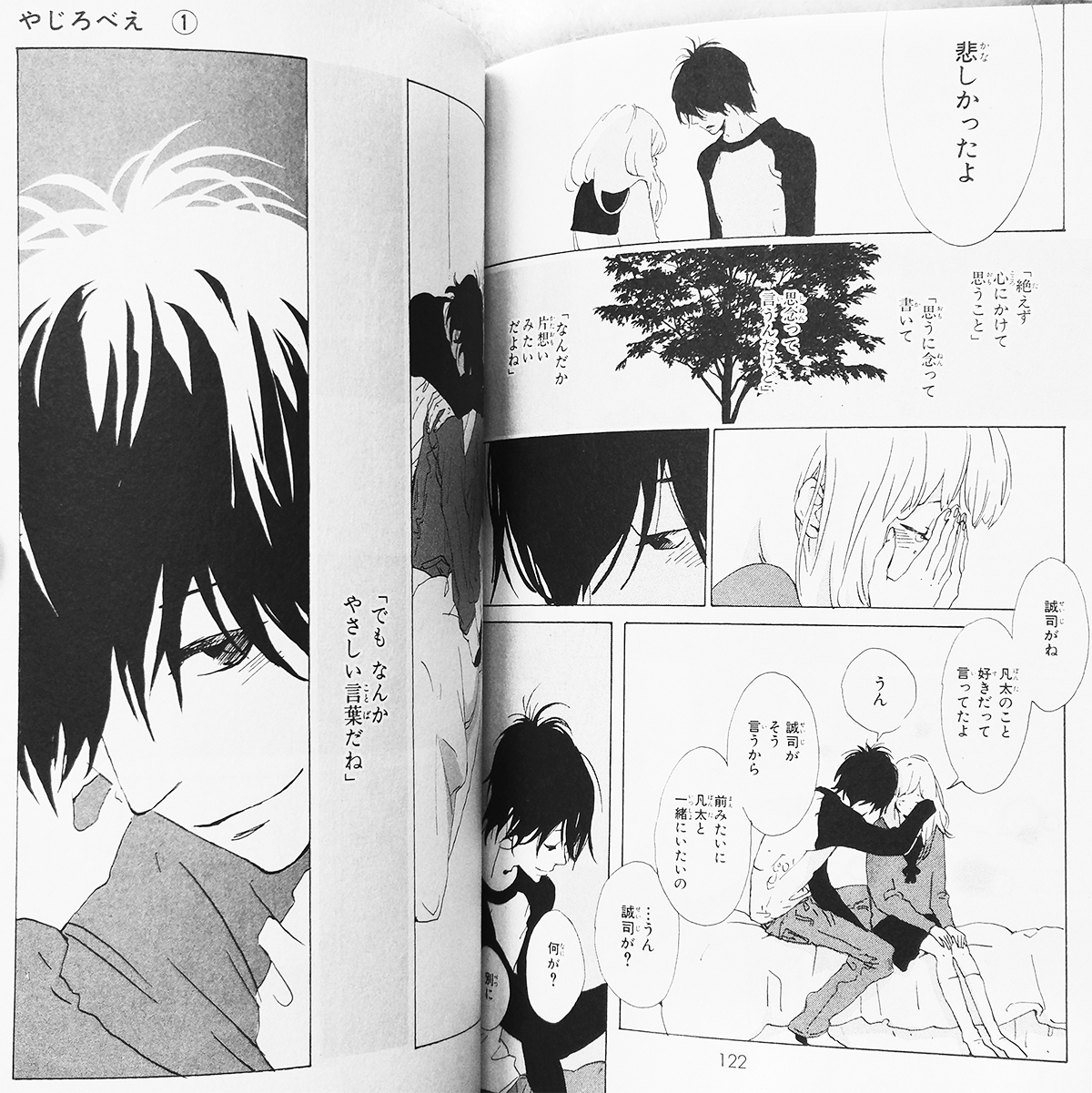 Another pair Haru watches is Seiji and his friend Kawabata-san who squats at their apartment whenever he feels like it. And with a mixture of curiousity and jealousy Haru observes his stepfathers platonic relationship with Chie, a now divorced single mother and a stunningly beautiful woman who Seiji meets again at a flea market. Haru finds out that Seiji rejected Chie's advancements years ago when they were university students. Chie is a person who wants to make everybody like her so Seiji's resistance to her charms is a puzzle to Chie, Kawabata and Haru alike. Even more confusing to Haru is Towa, Chie's son who is one year younger than Haru. He seems a little mysterious and excentric but also tries to reach out to Haru whenever they meet. Then there's Seiji and Chie who can't seem to get closer to each other because Seiji always sees Haru as the priority in his life.
While in her monologues Haru often ponders the people and things she has lost so far in her life, the manga as a whole feels both mellow and light-hearted a lot of the time. Haru was lucky enough to have Seiji by her side after her mother died so her death wasn't quite as traumatic as it could have been to other less fortunate children. Seiji fully takes on the roles of a father and a mother. He almost turns into a housewife for Haru, showing her how to cook (and letting her do things her way even when she fails) and how to grow vegetables in his small garden. When he brings home some young tomato plants one day, Haru realizes after a while that Seiji raised her not from the seed but from the time she was already a small plant. And with Seiji's care, love and attention she managed to grow and turn into something beautiful just like the tomatoes that are now ripening in their garden.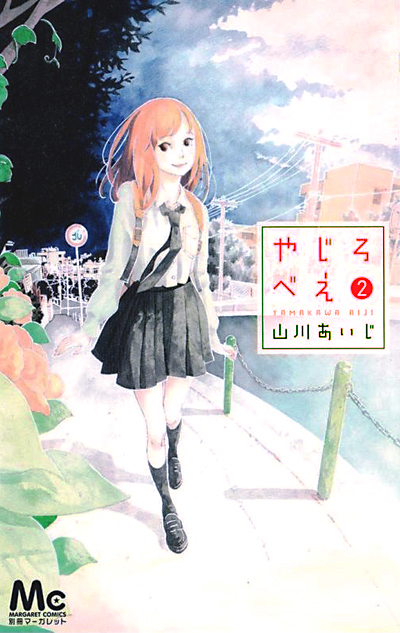 But the main theme in this manga remains the question of how to communicate your feelings and intentions to somebody else without being too imposing on the other person. How do you overcome your fear of being rejected when you feel attracted to somebody and want to tell them how you feel? These questions aren't just raised in a romantic context. Haru learns how to be more open about her feelings from Towa's mother Chie, a kind of ersatz mother. She also teaches Haru how to use makeup which Seiji as a man wouldn't have been able to do. Something Haru still wants to achieve is help Seiji get closer to his seemingly cold and disapproving grandmother again. The possibility of her and Seiji gaining a bigger family is just around the corner…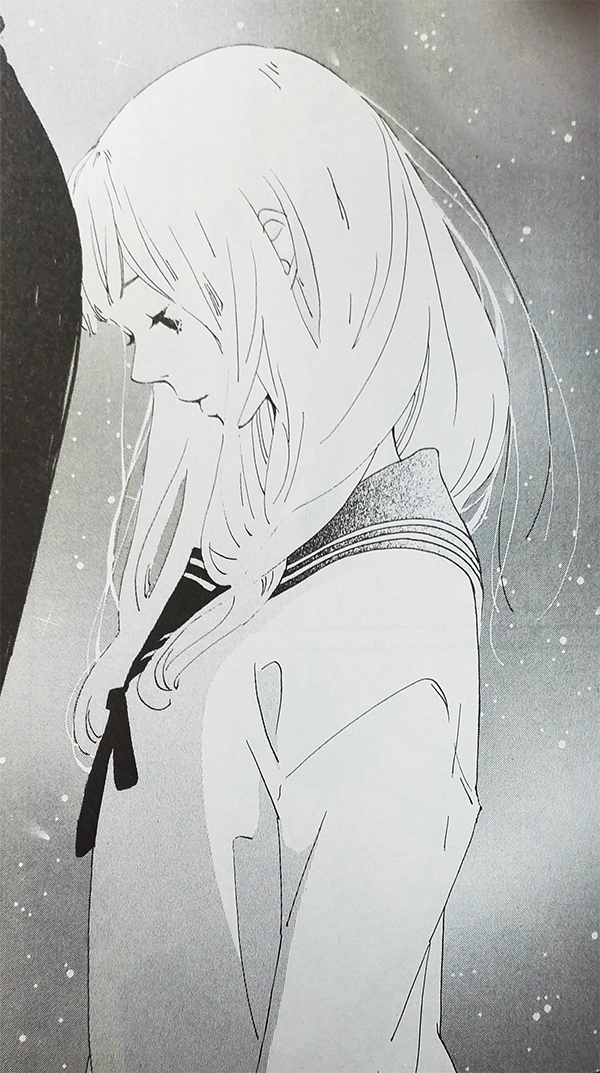 A young girl and her stepfather, a teenage boy whose parents got divorced, remarried and are expecting a baby again, another boy who was raised by a divorced single mother, a young man who suddenly had to become a father to a girl who isn't his relative by blood and who has lost contact with his own family because of that, another young man who – lacking a family of his own – finds company in the household of his old friend and his stepdaughter. These are the unconventional forms of family Yamakawa portrays through Haru's observing eyes. There is a multitude of options for living together as human beings. And Haru realizes one important thing: she has to tell Seiji how she feels. In a long birthday letter that will not leave even the most stonehearted of readers untouched, she expresses her gratitude toward him for being exactly what a father is supposed to be to her. And yet until the very end of the story, a certain kind of ambiguity between her and Seiji will remain, because Haru finds out that Seiji and her mother's relationship was about to change just before her death, making it also possible for Haru to take her mother's place and to let Seiji become hers, something else than family…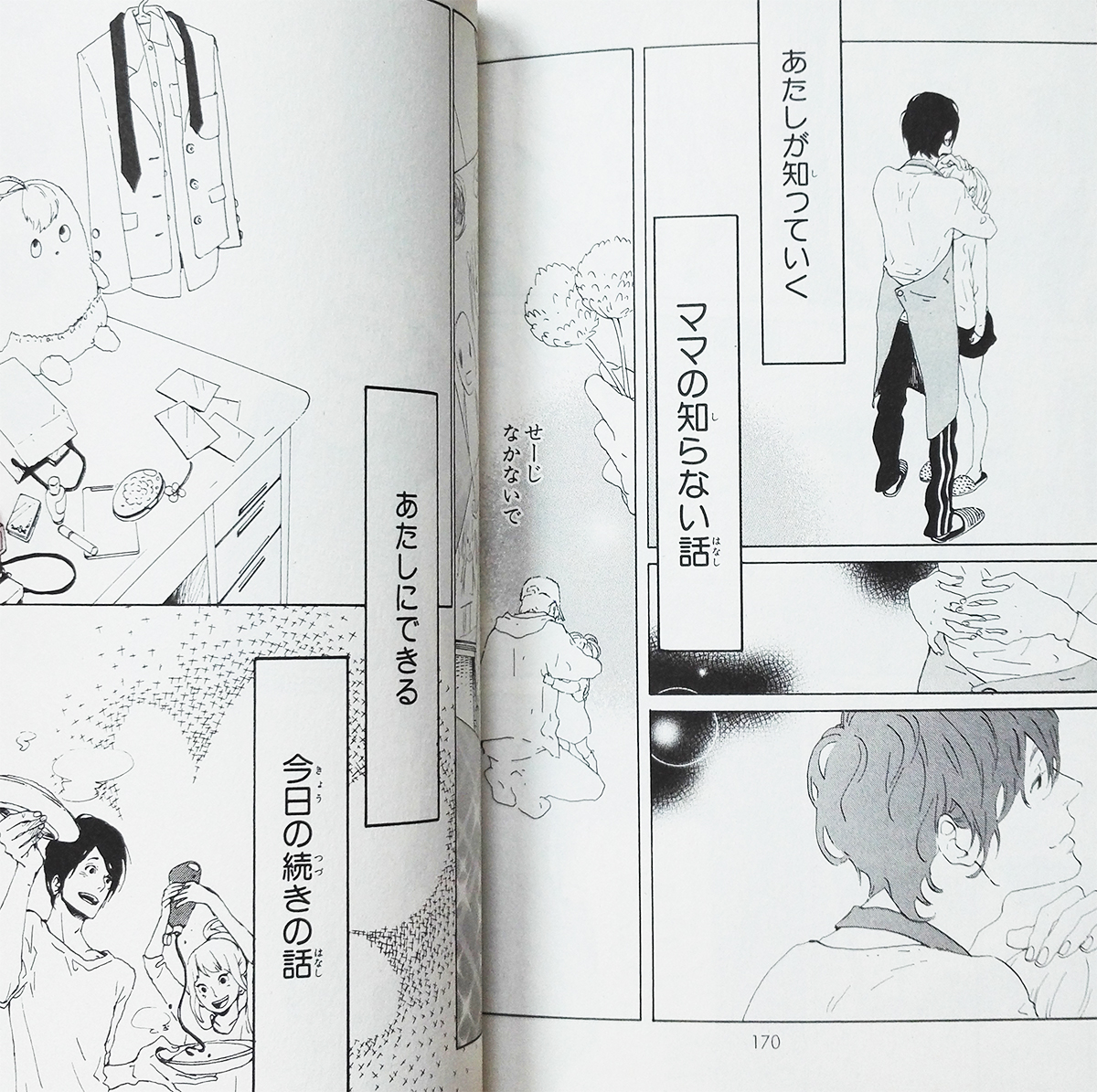 And thus the story ends on an ambiguous note. On the inside cover of the second volume, YajirobÄ" is listed as an ongoing work but Yamakawa started another longer series, Stand Up!, after this so one might as well see this as a finished work. Finished and accomplished. Yamakawa has managed to fully make use of the shōjo manga genre to tell a multi-facetted story with complex characters. There is an air of nostalgia surrounding Haru as she's standing right between childhood and adulthood, something that makes it easy to identify with her whether you're her age or an adult because it'll make you recognize or remember your own feelings between longing for a childhood that's now gone and the insecurities and uncertainties of becoming an adult. This is also mirrored in the art and the designs used for the cover with their nostalgic water colors, the soft retro color schemes with their white outlines contrasting with the chic and modern fonts used for the title.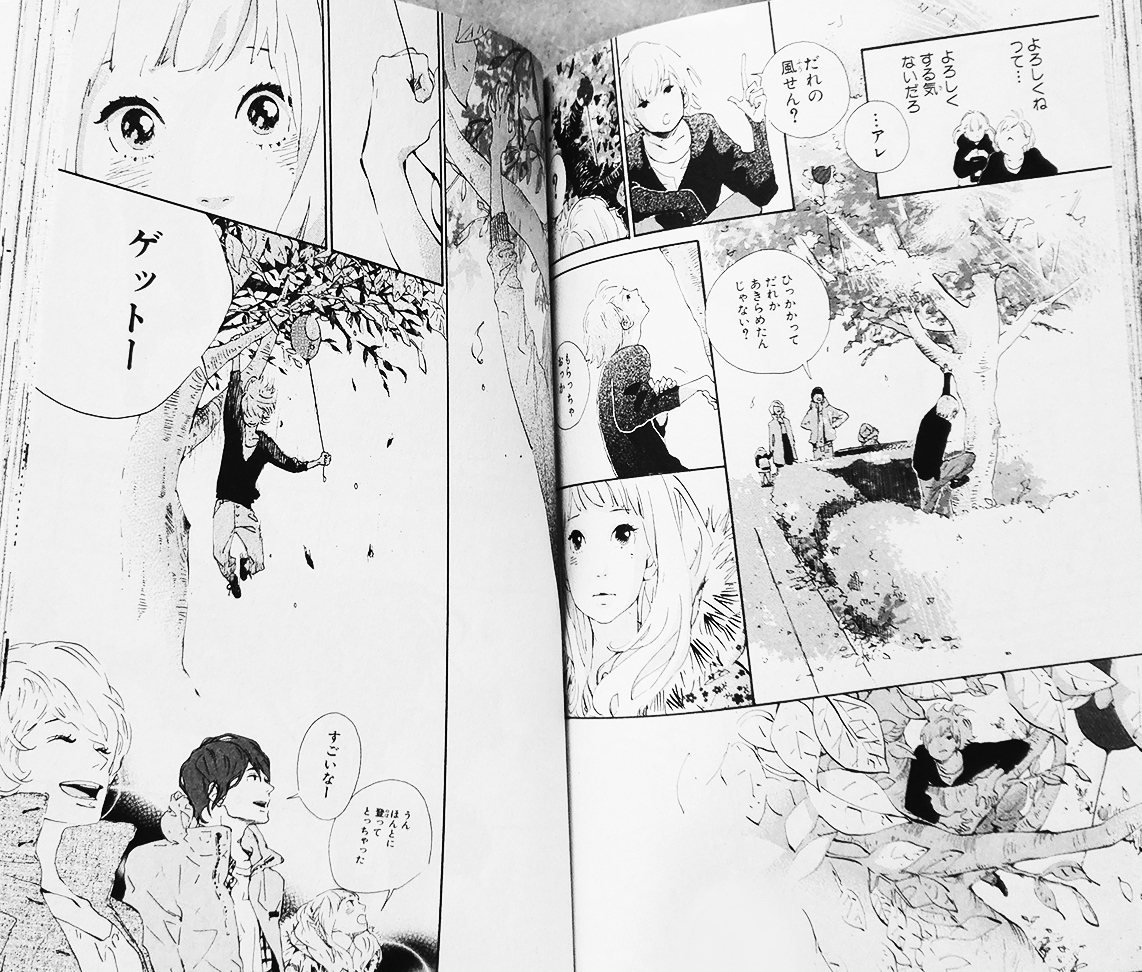 Yamakawa's beautiful art throughout the manga always makes it easy to become completely absorbed into Haru's (and at times Seiji's) thoughts and the way she observes her surroundings. Yamakawa's story-telling is subtle, almost restrained yet deeply exploring, questioning without coming up with definite answers. (It's actually very rewarding to read the manga a second and even a third time to fully grasp each character's motivations, to get the full picture of what drives them, what sources of pain and hurt are buried in their pasts.) Her visual effects go along with that as her artwork is often light, airy, almost sketchy. When the story moves into heavier territory she often relies on completely black backgrounds on which the white text of the internal monologue – or as in one of the most moving scenes, Haru's written words to Seiji – are almost etched into the readers' eyes. Those sparse words leave an impact on the characters' as well as the readers' minds. The slender figures of the characters, the stream of consciousness-like floating monologue layered over tender scenes of the everyday, the subtle gestures between two characters fighting to overcome their distance without words – they all lend this manga a sense of fragility and vulnerability that never becomes too painful because Yamakawa's main philosophy is that of a humane gentleness in social interactions.
Verdict: In a perfect world, this would have become a bestselling instant classic. But since it hasn't, at least for the time being, it's now up to us, the readers, to spread the word about this fantastic, moving, deeply human work. This a true gem not to be missed!
Title: Yajirobē (やじろべえ)
Author: Yamakawa Aiji (山川あいじ)
Volumes: 2 (complete; 2011-2012)
Magazine: Bessatsu Margaret, Bessatsu Margaret sister (2010-2011)
Label: Margaret Comics
Publisher: Shueisha