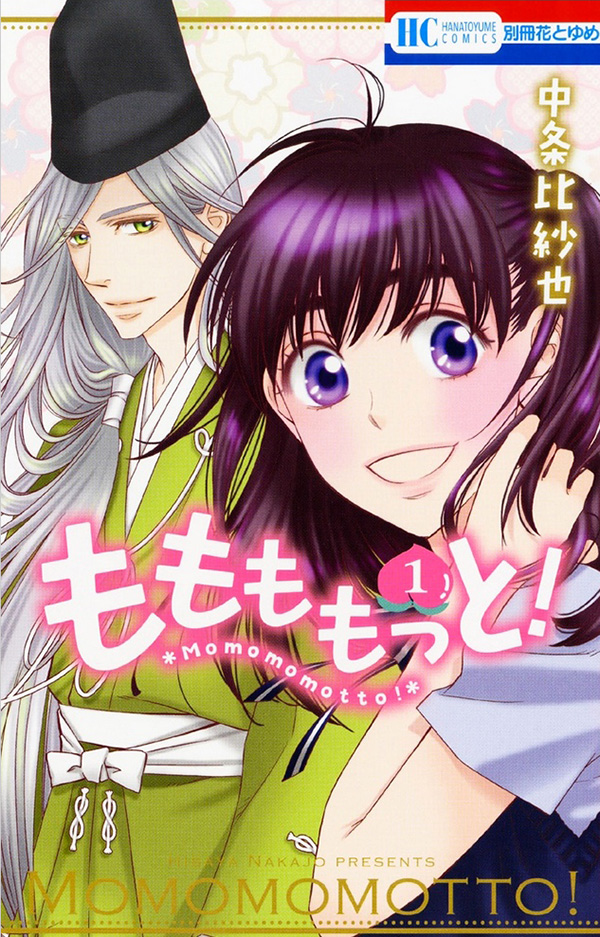 Our last review discussed the return of a widely loved Hana to Yume series featuring a clan and a curse forcing them to transform into animals when touched or stressed. Today this theme gets turned on its head as we witness the comeback of another Hana to Yume veteran, with a series featuring a hedgehog turning into a handsome young man! Following Takaya Natsuki and her Fruits Basket revival with Fruits Basket another, another big name formerly associated with Hakusensha's semi-monthly Hana to Yume has moved to its monthly sister magazine, Bessatsu Hana to Yume (BetsuHana) with a new series: Nakajō Hisaya who enjoyed immense popularity with her Hanazakari no Kimitachi e (Hana-Kimi – For You in Full Blossom) series which ran from 1996 to 2004, its start and end preceding Fruits Basket by 2 years respectively. Both series were long-running mega hits, the latter (Furuba) also receiving a TV anime series while the former (Hana-Kimi) was adapted into a successful TV drama series (2 seasons, 2007, 2011; a Chinese TV adaptation aired before them in 2006), a Korean drama version titled To The Beautiful You (Areumdaun Geudaeege) in 2012 and finally a dating game app in 2017.
Hana-Kimi, a manga following the girl Mizuki who disguises herself as a boy to attend an all-boys school practically bursting with handsome, charismatic young men (ikemen), was collected into 23 tankōbon volumes and a 2-volume collection of spin-off short stories subtitled After School. Nakajō was unable to repeat the series' million-selling success, though. Her short and sweet Sugar Princess (2 volumes) had difficulties during its run in Hana to Yume from 2005-2007, including being put on hiatus due to the artist's health-related issues. One can only try to imagine how much more attention this series centering on a school girl's passion for ice skating would have received if it had been released a decade later with the Yuri on Ice craze in full bloom (pun not entirely unintended).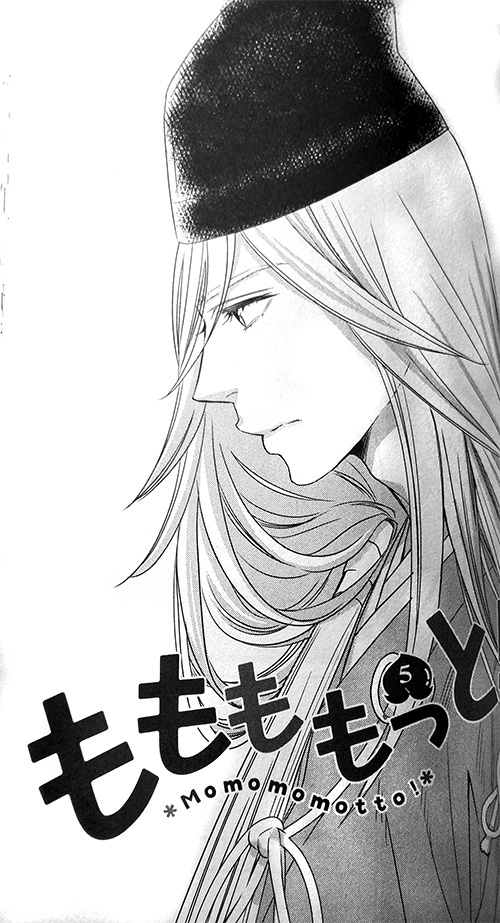 With the only slightly less trying schedule of being published in a monthly magazine, Nakajō returned to the manga world with a new series titled Momomomotto! (alternatively Momo mo motto!) last year and its first manga volume in January 2017. A closer look at its cover artwork in fresh, spring themed colors reveals a lot of traditional Japanese imagery, including peach and sakura blossoms and a handsome man wearing elegant tradidional garments and an eboshi on his head. Next to him we see an enthusiastically smiling girl and when you turn the book to its backcover, there's a cute hedgehog giving readers a pretty good idea of what's to come in Momomomotto! With the combination of an ikemen, a school girl and an animal, things are bound to go down the stereotypical fantasy shōjo manga route but – spoiler alert! – Nakajō-sensei turns these clichés into something really enjoyable!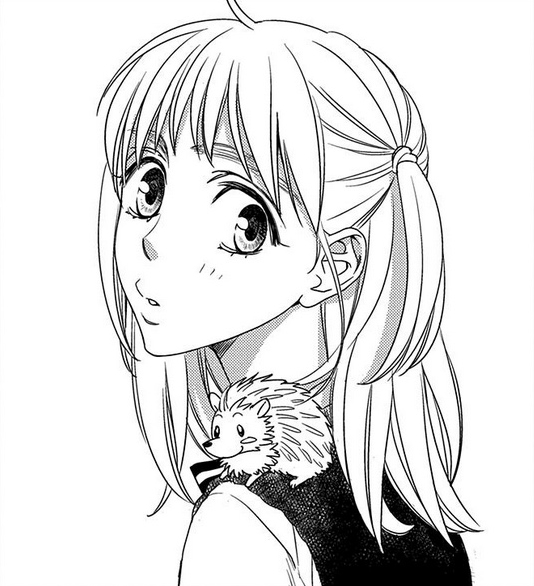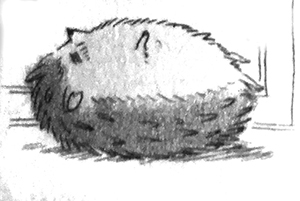 The smiling girl on the cover is, of course, the manga's heroine. Momose Momo – can a name get any peachier? – is late for her first day of high school. Of course. She's living with her grandparents after her parents died in an accident. We've heard that before. She's determined to lead a normal school life as your regular school girl. Again, no surprises here. And now regular readers of shōjo manga know to expect some kind of twist: In this case, Momo has been able to see mononoke, spirits in the form of animals and human-like entities, everywhere ever since an incident in her early childhood. She's relieved to find that there are only so few of them hanging out on her new school grounds. There's something else she finds, however: a living being, an animal in distress – a small hedgehog who looks like it might need some good care and food, so Momo takes it back home after school.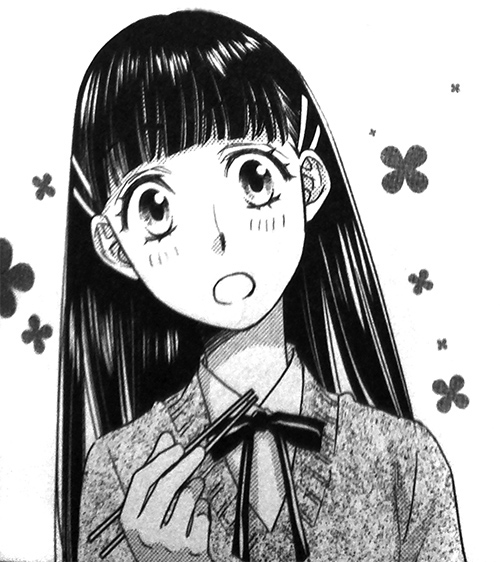 Momo is quickly able to make friends at school. Nishina Sumire, a pretty but down to earth girl, becomes her best friend. The whole school seems to admire her older brother, the star of the archery team. Then there's Aihara Shirō, A boy from her class, who often spends his lunch breaks talking to Momo, and elps her in several situations, knows about her hedgehog after she secretly (and in one case, unknowingly) takes it to school with her. But Momo hasn't been able to tell Aihara-kun something quite mysterious about the hedghehog yet. The small animal can turn into a human being, a handsome young man dressed in the elegant clothes and hat of a Heian-period nobleman called Harimaru. Only Momo can see his human form, which is quite practical considering he often pops up suddenly at school.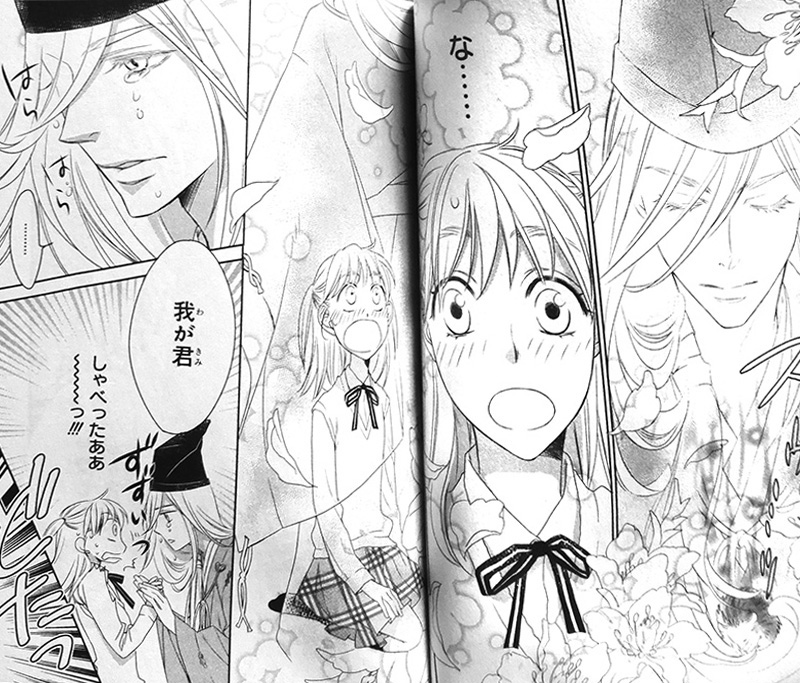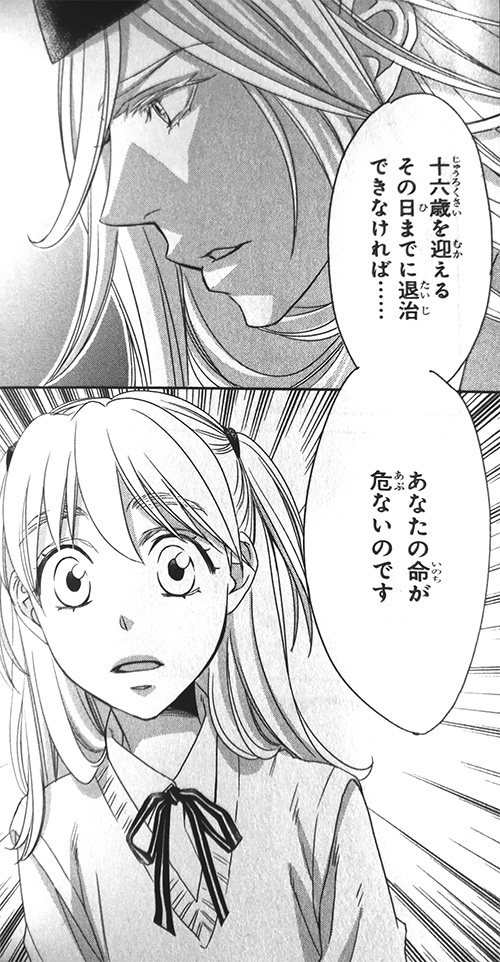 Harimaru has a shocking revelation for Momo. She is the reincarnation of his master Momotarō (the hero of a Japanese folktale) while Harimaru used to be his sword. Momotarō, along with three friends, fought off demons (oni) who attacked his village but the demons swore revenge and now want to hunt down his current incarnation, none other than Momo. Momo must gather the reincarnations of those three friends around her and fight against those demons, as her life is in danger if she doesn't slay them until she turns 16. In her past life, after Momotarō had slain the last demon, Harimaru broke and all that remained was the blade inside the hilt of the sword. Every time Momo has successfully fought a demon, pieces of the blade appear in the shape of a needle (hari) which then can reunite with Harimaru's body, helping him regain his strength.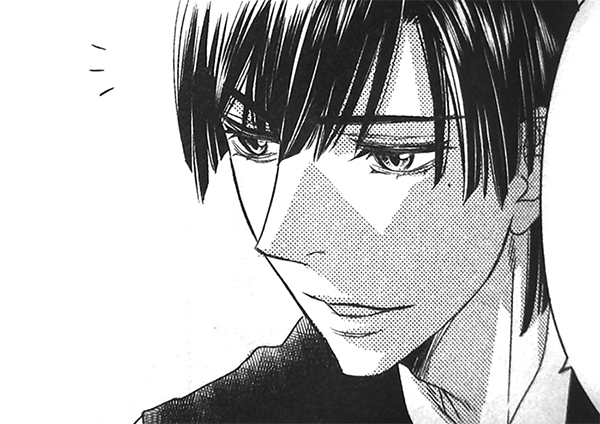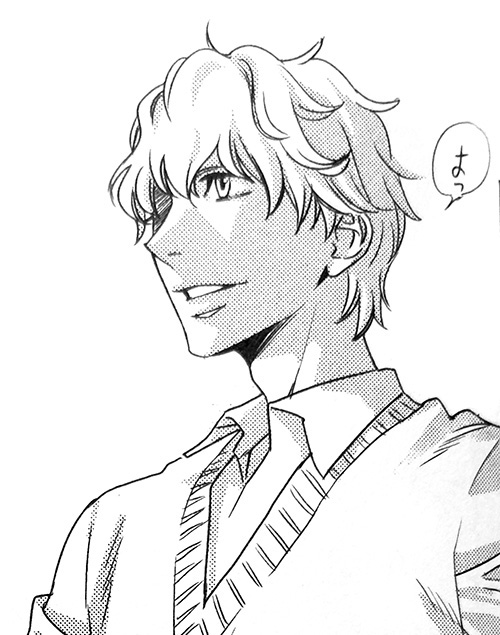 With the support of Aihara Momo is able to fight a demon at school and another one possessing one of their teachers which means two needles for Harimaru. He tells her about the ancient objects her mother did research on before she died, a netsuke shaped like a small hedgehog (a kind of toggle traditionally used by men to fasten small containers or pouches to their belts) and a tsuba, a round carved sword guard which Harimaru instructs Momo to keep close to her body because it will tell her when her three comrades from her previous life as Momotarō are around. Could it be the tsuba's doing that Momo suddenly hears a shrill sound at school when she's surrounded by Aihara, Sumire's older brother and a mysterious cat-loving boy Momo found sleeping in the school gym?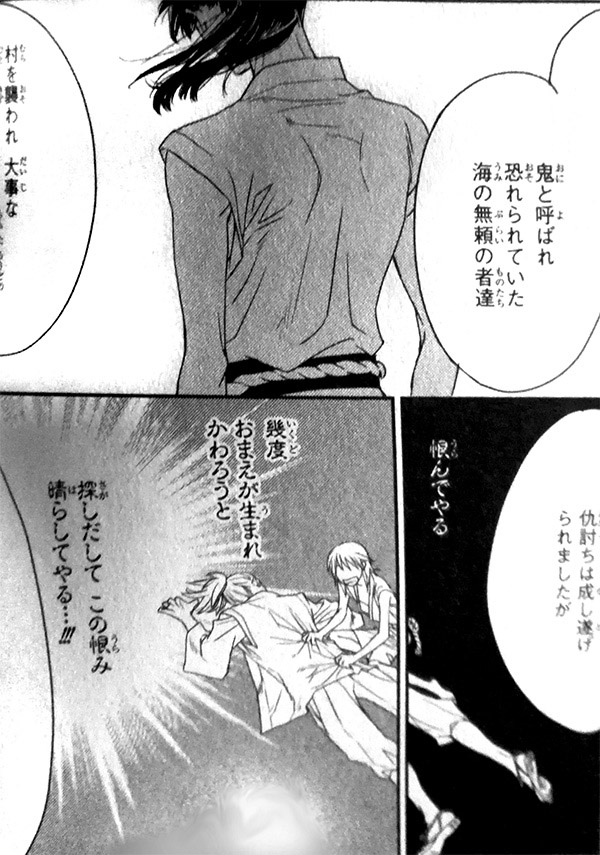 Thus ends the first volume of this promising return of Nakajō Hisaya. Once you get to the last page, you've encountered a ton of shōjo manga tropes. If you're even remotely familiar with them, the plot turns here won't be all that surprising. But there are also some very short flashbacks to events in Momo's past and her previous life as Momotarō, like images of a young boy crying at the seashore for example, which keep the story mysterious and engaging. However, they do not really complicate the story which is pretty straight forward and easy to follow, favoring action, comedy and pretty boys over introspection and the depiction of psychological depth. But in the end, this serves the series' fun and light atmosphere, turning it into a quick and entertaining read.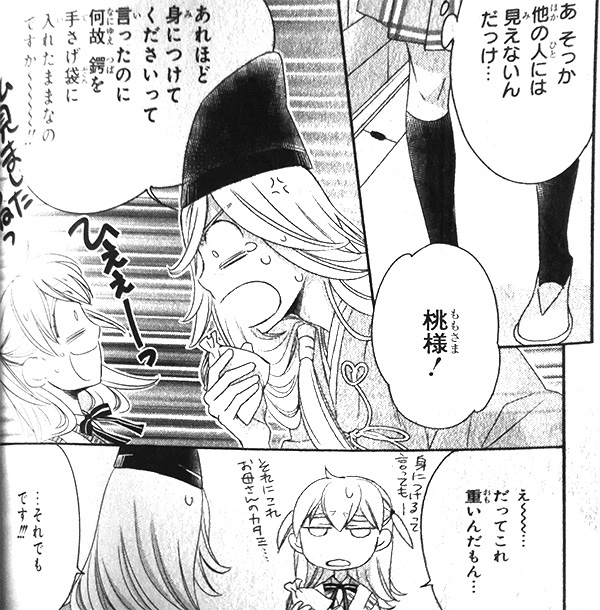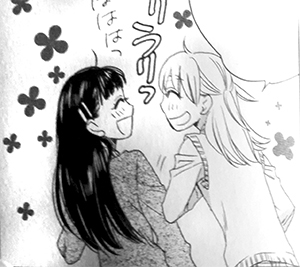 The dynamic and often prettily decorated page layouts offer a mix of scenes of school and domestic life, shots of pretty boys and quick-fire dialogues providing comic relief from the suspense of Momo's quest to find her group of former friends and stop the demons' plan of revenge. And most importantly, there's a lot of eye candy here in the form of pretty boys and the handsome man that is Harimaru, often presented in Nakajō's trademark profiles. To balance that out, we have the slightly klutzy but passionate and relatable protagonist Momo and Harimaru's cute animal form. Also notable is the depiction of the friendship between the two girls Momo and Sumire which I hope to see more of in future chapters!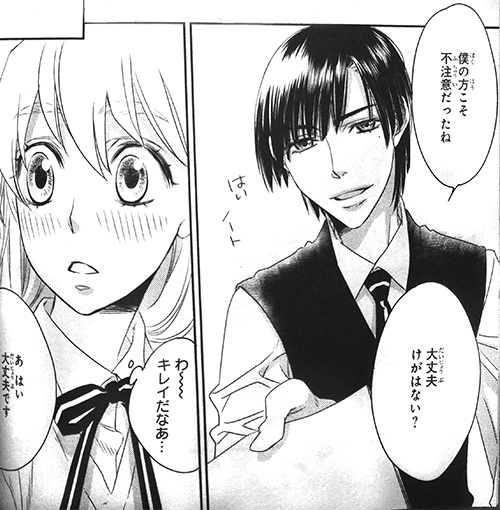 The image arsenal of traditional Japanese items but also the names and the allusion to the folktale of Momotarō, his three animal friends and their quest to defend an island from a group of demons are the manga's visual and narrative backbone. It's the mixture of these very elements and the present-day school life that lend the manga a true flavour of its own. It's admittedly not reinventing the wheel called shōjo manga. But it features such a great cast of likeable and mysterious characters, a lot of readers will find themselves become attached to them very quickly to follow Momo's and Harimaru's quest. This mix of fantasy, school life, action and comedy also leaves room for quieter moments and the development of friendships. It is always entertaining and very reminiscent of the old school Hana to Yume magic, leaving readers wanting more! The only thing that's holding up the fast pace the first volume has set is its slow release rhythm caused by the fact it's being published in a monthly magazine. The next volume won't be out until September at the earliest. I believe this series will settle at a one new tankōbon every 8-9 months rhythm with the coming volumes which means plenty of time between releases if you're a not a magazine buyer :( But so far, this title is definitely worth the wait! I'm very curious to see where Momo's journey is headed and if the series can manage to keep its high-octane pace!
Title: Momo mo motto! (ももももっと!; stylized as Momomomotto!)
Author: Nakajō Hisaya (中条比紗也)
Volumes: 1 (ongoing; 2017-)
Magazine: Bessatsu Hana to Yume
Label: Hana to Yume Comics
Publisher: Hakusensha
Additional information: Sample the first chapter of the first volume on Hakusensha's info page via the tameshiyomi link.